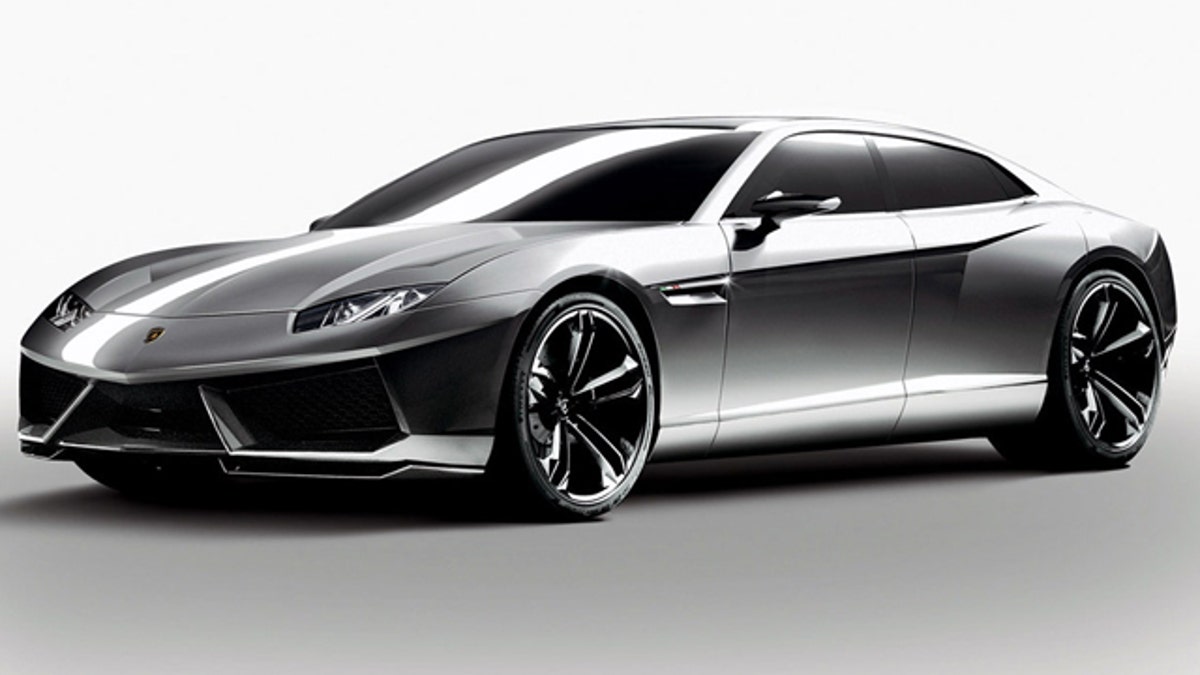 Lamborghini will decide by the "beginning of next year" on what form its third model will take--whether it's a sedan, an SUV or something entirely unexpected.
The resulting vehicle will not be on sale before 2016, says CEO Stephan Winkelmann.
A concept car in advance of the new vehicle seems a likely candidate for the upcoming 2012 Geneva Motor Show. In an interview at the recent Frankfurt Auto Show, Winkelmann said that "when we decide, we will show something."
Estoque on the outside
Winkelmann says it's clear that his company has to expand into non-sportscar segments to get to the profitability that's come to automakers like Porsche. That brand has become the business model for luxuyr automakers seeking to expand out of the supercar realm--automakers including Lamborghini, but also Bentley, Aston Martin and Maserati.
Lamborghini is one of the few luxury brands with just two models, he explains, and SUVs and sedans are the kinds of vehicles you have to build "If you want Lambos around in the future."
"It's different than in the Sixties," he explains.
Adding a non-supercar to the Lamborghini lineup has been on the drawing boards since 2007, when the brand hit record sales of more than 900 vehicles in the U.S. At the 2008 Paris Auto Show, Lamborghini unveiled the Estoque, a four-door sedan with chiseled styling that was later named to several best-of lists from the show.
The Estoque seemed a logical candidate for production, and Winkelmann says it's always a goal to produce batches of cars shown as concepts. Lamborghini will build 20 Sesto Elemento carbon-fiber supercars, after displaying that vehicle on last year's auto-show circuit.
"The Estoque was a bit different," he now explains. "At that time we wanted to test the reaction to Lamborghini outside of the super-sportscar segment."
Any new model would have to be consistent with the brand image, he says, and the Estoque proved a move outside of supercars would be the right move, he says.
SUV has the inside track?
Winkelmann confirms that by the beginning of 2012, "we will know more or less" which model it will build to accompany its Aventador and Gallardo supercars in showrooms.
While downplaying the importance of the Estoque, he confirms that "the SUV is a potential segment" and that part of the calculus for any new model is "what the group [VW AG] can do for you."
Volkswagen AG builds a trio of SUVs, including the Audi Q7, Volkswagen Touareg and Porsche Cayenne, and is in merger negotiations with Porsche, which builds the Panamera sedan.
Lamborghini has a track record for building SUVs, in the form of the military-grade LM002, which was built from 1986 to 1993, overlapping the years in which Lamborghini was owned by Chrysler.
Asia plays a big role
Whether it's an SUV or a sedan, the third model lineup at Lamborghini will be decided in part by how well it plays in Asia. Since 2007, sales in other markets have cratered: in the U.S., Lamborghini sold 290 vehicles last year, when it needs to sell 500 a year to be profitable.
In 2010, Chinese sales were approximately 200 units, balancing out the drop in American numbers.
"Asia/Pacific has given us the backup," he confirms.
With the region's growing importance, any new model will have to appeal to Asian customers so that it will "have a geographic distribution in the market to achieve the volumes" the company needs to make money, and to seed future growth.
"The biggest market for the future in terms of growth is in China," he adds. It represents "big opportunities in big segments."
Winkelmann doesn't see the U.S. economy rebounding in time to make a profit in 2012--"It's a market which is down too much in our opinion," he says--but he's still bullish on an eventual recovery, one that will be helped along by a new Lamborghini, no matter what shape it takes.