Jeep Wrangler-based Scrambler pickup gets artist's realistic renderings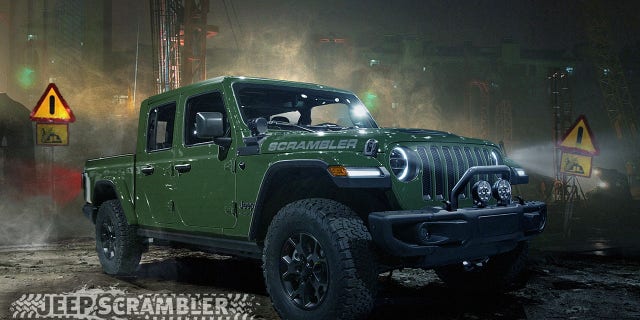 NEWYou can now listen to Fox News articles!
It's not very difficult to picture the Jeep Wrangler pickup, as camouflaged test vehicles have failed to cloak this brawny truck's unmistakable shape. But for those who cannot wait another year, a Photoshop wiz at JeepScramblerForums.com has just posted some realistic renderings.
The Scrambler, as it's supposed to be called, is based on the four-door JL-generation Wrangler which debuted in November. While Jeep has been selling Mopar pickup conversion kits for the previous JK Wrangler, this is the first factory Jeep pickup since the Cherokee-based Commanche departed after the 1992 model year.
It's nearly three feet longer than the Wrangler Unlimited. It's also going to be a convertible.
Aside from Jeep's zippered soft top---the first soft top convertible pickup since the 1991 Dodge Dakota, although the last convertible pickup on sale was the hardtop 2006 Chevrolet SSR---the usual three-piece hardtop with the removable roof sections will also be available in black or body color. A turbodiesel V-6 is so far confirmed, which has yet to be installed in the current Wrangler. Likely, the Wrangler's gas 3.6-liter V-6 will also be available, as will both the six-speed manual and eight-speed automatic transmissions.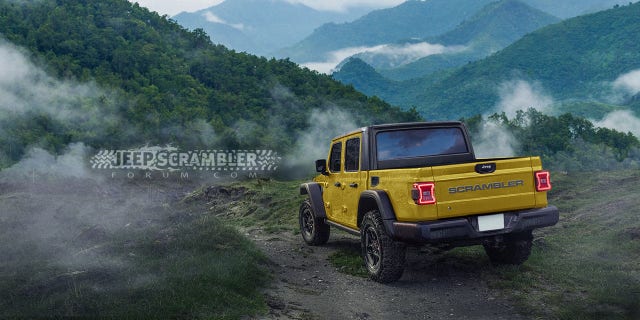 Dealers will begin stocking the Scrambler by April 2019, according to Automotive News, which is more than a year later than Fiat Chrysler had promised when official news of the truck broke in 2016.