Infiniti reveals 'what if' Prototype 9 1940s grand prix racer ahead of Pebble Beach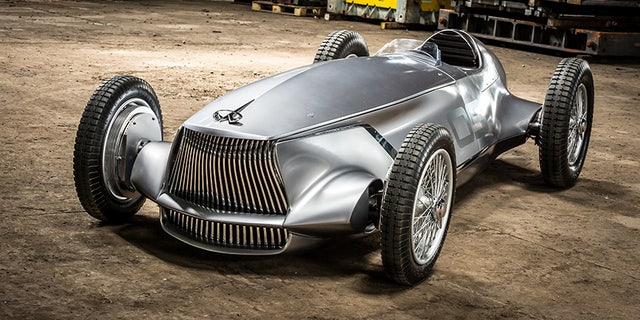 Infiniti has revealed its "what if" Prototype 9 race car ahead of the festivities of the Monterey Car Week. We must admit, for a flight of fancy what might have been grand prix racer, this thing is pretty cool.
The concept started with the idea of running across a forgotten race car in a barn in the Japanese countryside. From there, Alfonso Albaisa, Senior Vice President, Global Design, made a design sketch inspired by roadsters and aircraft of the era
Soon, many on the design team were giving their input, and then word got out beyond the design team to production, who volunteered to build it.
The project was moved to the Nissan Research Center in Oppama, Japan, where a team of Takumi, the same master craftspeople who build cars like the Nissan GT-R, set to building it. The Takumi literally hammered the bare-metal steel body panels around a steel ladder frame sporting a 106.3-inch wheelbase.
For the suspension, Infiniti chose period pieces. Up front is a leading-arm rigid axle with a transverse leaf spring. Out back is a DeDion axle with another transverse leaf spring. The steering isn't power assisted, and the brakes aren't boosted, though discs are found at all four corners. The tires are cross-ply 450-19 fronts and 650-19 rears mounted on center-locking wire wheels.
For the interior, the Takumi chose the best materials and tailored them to bring out their best characteristics. They chose black leather with red contrast stitching and sewed Japanese flags into the seat. (We'll ignore for now that Japan was an Axis power during this era.)
When Nissan Motor Corporation's powertrain engineers heard about the project, the Prototype 9 took a left turn. Instead of a period internal combustion engine, they went with a modern electric powertrain. In fact, this powerplant has yet to be used in any Nissan or Infiniti car. It consists of a 30-kwh battery teamed with a prototype electric motor that produces 148 horsepower and 236 pound-feet of torque. The power is sent to the rear wheels via a single-speed transmission.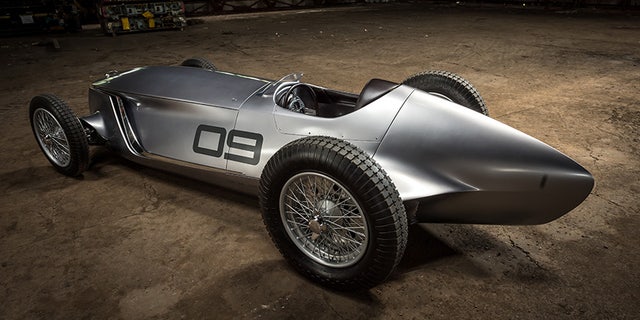 Weighing in at just 1,962 pounds, Infiniti says the Prototype 9 has a top speed of 105.6 mph, can sprint from 0-62 mph in 5.5 seconds, and can handle 20 minutes of heavy track use before running out of juice. Infiniti isn't saying how many miles it can drive at highway speeds.
The Prototype 9 will make its public debut this week at the Pebble Beach Concours d'Elegance. It will be shown alongside a real race car from Infiniti parent Nissan's past, the Prince R380 of the 1960s.
For more coverage from Monterey Car Week, visit Motor Authority's dedicated hub.