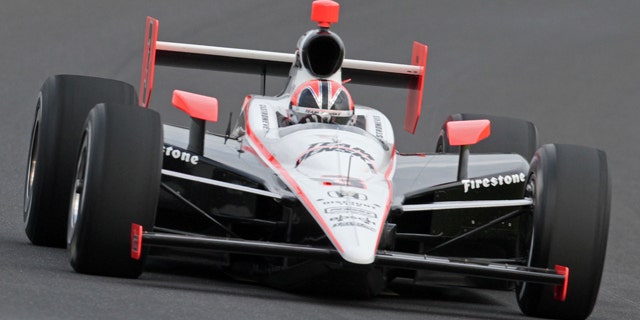 INDIANAPOLIS - Tony Kanaan spent all weekend cramming to get into the Indianapolis 500.
He barely made it.
Two crashes in less than 24 hours sent Kanaan's team scrambling to get the No. 11 car back together, and the 2004 IndyCar Series champ aced the biggest test of his career with a four-lap qualifying average of 224.072 mph to get his car on the starting grid with 30 minutes left in qualifications. All he had to do was wait to see if the speed would hold up, which it did.
"You live, you learn, and we crashed. Today was just a nightmare," he said after getting the 32nd starting spot in the 33-car field. "Apart from that, the conditions were the hottest we've ever seen. The track was really slick, I saw everybody complaining. So it's tough to keep it cool and say 'Yeah, we're just going to go out at 5.' It's the last day, you're not in the field yet, crashed two cars and just stay cool."
Fortunately for Michael Andretti, Kanaan did.
It's the first time the Brazilian will start outside the first two rows in nine Indy starts, but after a dreadful weekend for Andretti Autosport, they'll take it.
From Kanaan's crashes to Danica Patrick's contentious comments, the Andretti Curse was back in full force at Indy — right up until the final moments when Kanaan pulled out of line twice after realizing he wouldn't have to requalify.
The team struggles began Saturday when Marco Andretti described his qualifying run as "pathetic." The 23-year-old American still wound up with the best starting position, 16th, on his dad's five-car team.
Kanaan and Patrick had worse weekends.
Patrick, the series' most marketable personality, climbed out of her car after Saturday's sub-par run and blamed a poor setup for her poor performance — comments that drew boos when they were broadcast over the public address system.
After talking to Kanaan for two hours Saturday night, Patrick took a different tone, though her assessment of the cars seemed spot on.
"I was a little emotional yesterday," she said in a television interview. "I was still shaking when I did the interview because we were on a very, very ragged edge out there."
Kanaan actually went over the edge.
On the first lap of Saturday's qualifying attempt, he took the green flag, drove into the first turn, spun 180 degrees, skidded backward down the short chute between turns one and two and spun back around again before hitting the wall. The damage to his primary car forced Kanaan's team to assemble his backup car overnight.
Twenty-one minutes into Sunday morning's practice, the crew was starting from scratch.
Kanaan again spun coming out of the first turn and again skidded down the short chute, up the track and into the wall in the second turn. The car was heavily damaged and so were Kanaan's hopes of making a ninth Indy start.
"Obviously, it was a very emotional day for me," Kanaan said. "I'm not the type of guy — I don't cry very easily — the other Brazilian does all the time. But it was a tough day for me. Every time I came out it was very emotional."
Team owner Michael Andretti, Marco's father, instructed crew members from his three qualified cars to help Kanaan's guys to come up with something that would work.
They decided to recycle the top of Kanaan's backup car, and pieced together body parts from both of Kanaan's wrecked cars, both of Hunter-Reay's cars and Marco's backup. The mechanical parts came out of Hunter-Reay's qualified car, and while the mishmash of parts didn't fit exactly right, costing Kanaan speed, the 2004 IndyCar champ made it work.
Four hours later, Kanaan was shaking down a rebuilt car that couldn't reach qualifying speed.
They went back to the garage and back to practice and back to the garage before Kanaan put up consecutive laps topping 223.8 in the final hour — fast enough to make the field. He immediately put the car in the qualifying line and delivered one of the most clutch performances of his career, bumping Sebastian Saavedra out of the race.
"It was a long day, I probably lost five days of my life today," Kanaan said. "Guys rebuilt three cars in 24 hours. I can count on one hand how many teams can rebuild that."
Kanaan wasn't the only driver feeling Sunday's tension.
Brazil's Bruno Junqueira, the 2002 Indy pole winner, earned one of the nine open spots with an average of 225.662 — the day's fastest qualifying speed. He'll start 25th.
Kanaan's teammate John Andretti was the first driver to qualify Sunday, averaging 224.518 mph. He'll start 28th, the inside of Row 10.
Sarah Fisher's four-lap average of 224.434 was the fastest of the record four women to make the lineup and will start 29th. The fifth woman, Venezuela's Milka Duno, could not qualify on her three attempts Sunday.
"I think Helio (Castroneves) motivated me yesterday when he said he saw Jesus out there, so I had to go meet Him, too," Fisher said.
The most stunning twists came in the final 15 minutes.
Paul Tracy, who lost the Indy 500 title in the disputed finish of 2002, withdrew his speed and failed to requalify. Fisher's teammate, Jay Howard, did the same thing and wound up with the same shocking result. The two withdrawals put Saavedra in the 33rd starting spot despite crashing late in practice and not being able to requalify.
"We've had a tough week," Tracy said of his team, KV Racing Technology. "We had three cars into the wall, so I was happy we didn't end up going on the trailer in a box with a bunch of pieces. It's how Indianapolis is, you know. Some of the greatest drivers have not made it."
Joining Duno, Howard, Tracy on the sidelines will be Jaques Lazier, who was a late replacement for A.J. Foyt IV.
Indy 500 starting lineup:
1. (3) Helio Castroneves, Dallara-Honda, 02:38.7485 (226.774).
2. (12) Will Power, Dallara-Honda, 02:39.0024 (226.412).
3. (77) Alex Tagliani, Dallara-Honda, 02:39.0163 (226.392).
4. (10T) Dario Franchitti, Dallara-Honda, 02:39.1825 (226.156).
5. (9) Scott Dixon, Dallara-Honda, 02:39.4367 (225.795).
6. (30) Graham Rahal, Dallara-Honda, 02:39.5627 (225.617).
7. (06) Hideki Mutoh, Dallara-Honda, 02:39.6998 (225.423).
8. (6) Ryan Briscoe, Dallara-Honda, 02:39.7409 (225.365).
9. (20) Ed Carpenter, Dallara-Honda, 02:39.8817 (225.166).
10. (99) Townsend Bell, Dallara-Honda, 02:39.9313 (225.097).
11. (22) Justin Wilson, Dallara-Honda, 02:39.9647 (225.050).
12. (2) Raphael Matos, Dallara-Honda, 02:39.9798 (225.028).
13. (32) Mario Moraes, Dallara-Honda, 02:40.0794 (224.888).
14. (21) Davey Hamilton, Dallara-Honda, 02:40.1053 (224.852).
15. (24) Mike Conway, Dallara-Honda, 02:40.2969 (224.583).
16. (26) Marco Andretti, Dallara-Honda, 02:40.3030 (224.575).
17. (37) Ryan Hunter-Reay, Dallara-Honda, 02:40.3227 (224.547).
18. (4) Dan Wheldon, Dallara-Honda, 02:40.3821 (224.464).
19. (8T) EJ Viso, Dallara-Honda, 02:40.4424 (224.380).
20. (23) Tomas Scheckter, Dallara-Honda, 02:40.5270 (224.261).
21. (25) Ana Beatriz, Dallara-Honda, 02:40.5402 (224.243).
22. (78) Simona de Silvestro, Dallara-Honda, 02:40.5511 (224.228).
23. (7) Danica Patrick, Dallara-Honda, 02:40.5584 (224.217).
24. (36) Bertrand Baguette, Dallara-Honda, 02:40.5785 (224.189).
25. (33) Bruno Junqueira, Dallara-Honda, 02:39.5305 (225.662).
26. (19) Alex Lloyd, Dallara-Honda, 02:40.1543 (224.783).
27. (34) Mario Romancini, Dallara-Honda, 02:40.2557 (224.641).
28. (43) John Andretti, Dallara-Honda, 02:40.3438 (224.518).
29. (67) Sarah Fisher, Dallara-Honda, 02:40.4033 (224.434).
30. (14) Vitor Meira, Dallara-Honda, 02:40.4367 (224.388).
31. (5) Takuma Sato, Dallara-Honda, 02:40.5865 (224.178).
32. (11T) Tony Kanaan, Dallara-Honda, 02:40.6628 (224.072).
33. (29) Sebastian Saavedra, Dallara-Honda, 02:40.9776 (223.634).