Indoor drive-in movie theater coming to Nashville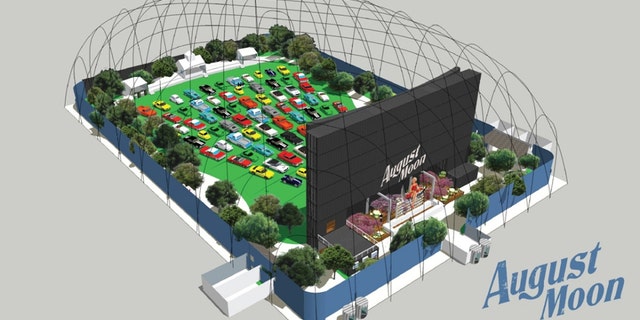 Movie-goers in Nashville are in for a unique experience as plans have been unveiled for an indoor drive-in with a 1960s feel, Fox 17 reports.
The "August Moon Drive-In" is slated to open at the intersection of James Robertson Parkway and Interstate 24 in 2018.
But this is not your typical drive-in.
The environment in the 40,000 square-foot space with an air-supported dome will be complete with 50 classic cars, full-sized trees, hammocks, a starry night with an August "sailor's moon" and even fireflies. It also boasts the largest non-IMAX movie screen in the North America.
"The August Moon Drive-In will be the first of its kind and an attraction that dramatically enhances the way people experience movies," a news release sent to Fox 17 News said.
The drive-in will operate daily, with an initial schedule of 18 showings a week.
The project is being designed by Michael Counts, who is based out of New York and has been called a "master of immersive entertainment" by the New York Times. Counts is best known for creating "The Walking Dead Experience."
"The August Moon Drive-In is conceived as a mini indoor theme park that transports people in space and time to a quintessentially American experience – where that perfect summer night at sunset, where crickets chirp in the distance and the audience breathes in the scent of fresh meadow air, can be repeated with absolute consistency within what is effectively a giant movie set. In addition to being a re-invention of the movie-going experience, August Moon will allow audiences time to explore, play, and dine, and of course, watch their movie."
Seating will also prove to be a unique experience as viewers can choose from seats in vintage cars to a picnic blanket spread out under the stars.
Movie-goers can enjoy American comfort food in multiple dining areas or grab a drink at several bars. There's also a private dining "tree house" for events and parties.
Perfect for Music City, the drive-in will have live music programming before and after the movie.
Movies shown will be first-run movies as well as film favorites. The "August Moon community" will be able to vote on certain titles through social media to choose the programming at selected times.
This story originally appeared on Fox17.com