In the dark: VW owners, dealers wait for answers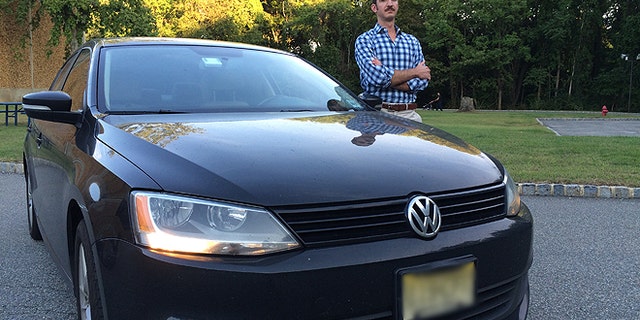 NEWYou can now listen to Fox News articles!
NEW JERSEY – The nearly half-million Americans who bought the Volkswagens affected by the recent exhaust emission scandal so far have no answers to how, when or even if their cars will be fixed.
The German car giant was ordered by the U.S. Environmental Protection Agency on Friday to fix the nearly 500,000 VW and Audi diesel cars that authorities say intentionally violated clean air laws by using software that circumvents emissions standards. But those who own and sell the TDI cars have no direction when it comes to a fix.
"We are a little bit in the dark to be honest," Ernesto Navas, a sales manager at Three County Volkswagen in northern New Jersey, told FoxNews.com. "They haven't informed us of anything yet."
Navas, who said dealers are barred from selling the affected cars, speculated that the solution will likely be a software update for vehicles affected, and that VW would absorb the costs. Asked if the cars, even if repaired, could lose value, he was unsure.
"Time will tell," he said. "The jury is still out on what could happen. I'd like to see Volkswagen fix it as soon as possible and then I would be happy.
"They cheated the system."
"The only thing that worries us as a dealer, is that we don't want to be known as the bad guy, selling cars that are harmful to the environment."
Volkswagen was found to be using what is known as a "defeat device" which uses engine control unit programming techniques "in come of its vehicles outfitted with turbo-charged direct injection (TDI) diesels to skirt U.S. compliance laws. The TDI system allegedly allows for a highly precise delivery of fuel, which in theory, leads to better control of emissions. Demonstrating low emission levels enabled Volkswagen access to green car subsidies and tax exemptions in the U.S., and the company has since admitted manipulating tests in Europe as well.
A total of 482,000 TDI cars sold in the U.S. since 2008 had the "defeat device"-- including Jetta, Beetle, Golf and Passat models, as well as the Audi A3.
The scandal cost Volkswagen CEO Martin Winterkorn his job. On Friday, new CEO Matthias Mueller said in a statement that the company will work to find a solution and gain back public confidence.
"My most urgent task is to win back trust for the Volkswagen Group - by leaving no stone unturned and with maximum transparency, as well as drawing the right conclusions from the current situation," he said.
The EPA determined that beginning Friday, it will reevaluate every light-duty diesel vehicle on the road in an effort to discover if any other car manufacturers have used emissions test-beating software or equipment as well.
Many TDI vehicle owners believe Volkswagen was intentionally dishonest.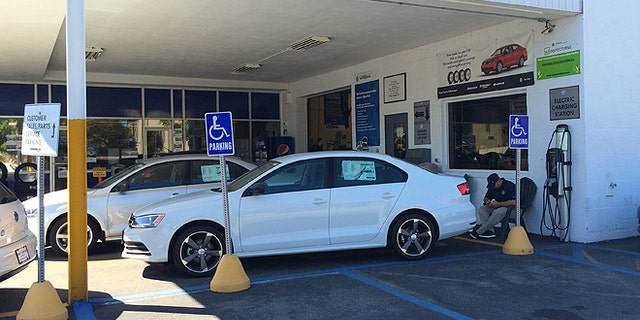 "They cheated the system," Brian Kutrumbos, 31, of Asbury Park, N.J., who is currently financing a 2012 TDI Clean Diesel Jetta, told FoxNews.com. "I'm a mechanical engineer, so I really know how to research cars. I did the research. I drove every midsize to compact four-door and [considered] the gas economy to power ratio. I wondered how they were able to get so much torque and have less emission. Well, now we know."
Kutrumbos says that he immediately thought of the possibility that he spent the last three years making loan payments on a car that had an inflated value.
"They came out saying that this car was environmentally sound but it turns out that it's not the car I purchased. It's not the car they sold me and the clean diesel vehicle they advertised," he said, adding that he remembers recently receiving a mailer card from VW that touted how its clean diesel vehicles helped to spare the environment of pollutants.
"I love my car. It's wonderful," he also said. "I love the Volkswagen brand, but they messed up. I don't like being part of a false claim and polluting the environment with my car. The scale of the discrepancy is huge."
The Jetta owner said he has not heard any word back from Volkswagen officials as to the next step for fixing the issue or reimbursement for a loan he believes was incorrectly priced.
"I'm hoping I can just take in the car for a higher level trade-in," he said. "But I don't know what sort of action they are taking. I'm going to have to wait and see what they say.
"One thing is for sure, I can't wait to go to my Volkswagen dealership and talk [smack]."