ICON working on 'new' 1965 Dodge pickup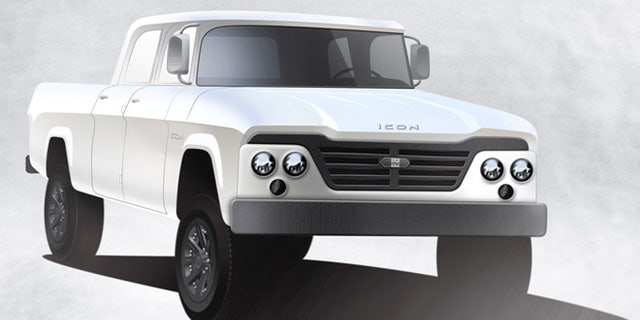 Chrysler is very excited about its new lineup of 2013 Ram pickup trucks, with their bold styling and fuel efficient drivetrains, but at least one truck shopper is looking for something a little more nostalgic.
California classic truck and car reimaginatorium ICON has revealed its next project to FoxNews.com, and it's an ex-military 1965 Dodge D200 crew cab fitted with modern underpinnings.
Part of the company's Reformer series of one-off vehicles, the four-door pickup is being rebuilt on a heavy duty Dodge 3500 platform powered by a specially prepared 5.9-liter Cummins diesel engine from Banks Power that puts out 975 lb-ft of torque and a custom exhaust braking system to reel it in. A 4.5-inch Baja 1000 Chase lift kit and a set of black Hutchinson rims should give it an appropriately menacing stance.
The body is finished in white paint, PVD black and brushed stainless steel trim, while the interior will be upholstered in very un-military-spec free-range bison leather from Parabellum Collection and outfitted with an audio system that includes high end Focal speakers and a JBL subwoofer.
The finished truck will be revealed at the Specialty Equipment Manufacturers Association show in Las Vegas, which starts October 30th, but is currently intended to be a one-off for an anonymous client. Nevertheless, if reception at the show is good, it probably wouldn't be too hard to convince ICON to do another one or two.
The price of the, for now, unique vehicle has not been revealed, but fully-loaded examples of ICON's production models, like its 1971 Ford Bronco-based BR Series, can run as high as $200,000.