Hennessey Venom GT Spyder claims top-down top speed title at 265.6 mph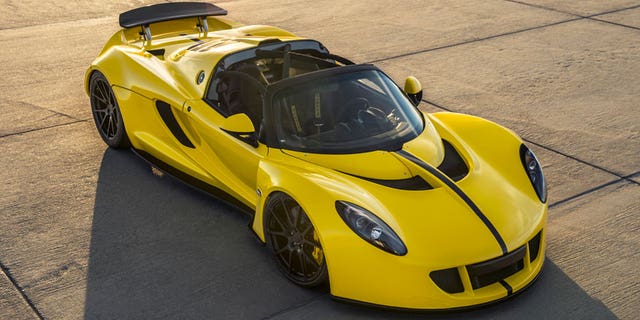 Here's one way to guarantee a bad hair day.
To celebrate its 25th anniversary, Hennessey Performance has claimed the record for world's fastest production convertible.
In 2014, the Texas company's 1,244 hp Venom GT coupe hit 270.4 mph on the Space Shuttle landing strip at the Kennedy Space Center. This time around, it went to the airstrip at California's Naval Air Station Lemoore with its latest 1,451 hp targa-top Spyder version of the car running in its open air configuration.
With driver Brian Smith behind the wheel, the Spyder hit 265.6 mph on the three-mile long runway. The speed was verified by equipment and staff from performance data equipment manufacturer Racelogic.
The Venom GT Spyder's speed bests the 254.04 mph mark set by the Bugatti Veyron Grand Sport Vitesse in 2013. For nitpickers, Bugatti's record is recognized by Guinness, which requires a different set of testing criteria than Hennessey used.
Regardless, three World Record Edition Venom GT Spyders are now on sale for $1.3 million each.
If all of these numbers sound ridiculous, stay tuned, because you probably ain't see nothin' yet.
Bugatti recently unveiled the new $2.5 million, 1,500 hp Chiron, which will be delivered with a 260 mph electronic restrictor, but that it proclaims is "ready for a new world speed record." Meanwhile, Hennessey has announced plans for its next-generation Venom called the F5, with a goal of hitting 290 mph.
That's F5, as in the tornado-ranking Fujita scale. Now that's a lot of wind to have in your hair.
----------