Hennessey planning record run for 275 mph Venom GT supercar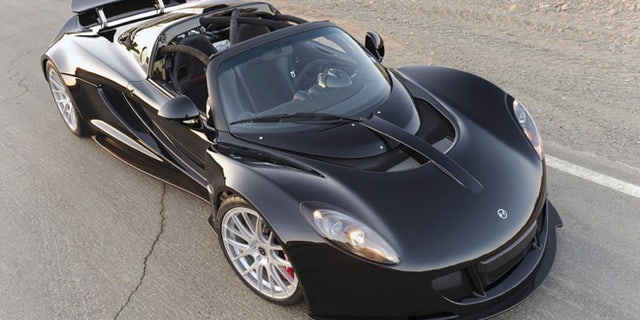 On paper, the Venom GT Spyder from Texas-based Hennessey performance has a theoretical top speed of 275 mph.
We may soon find out how much that paper is worth.
John Hennessey tells FoxNews.com that he is planning an effort to reclaim the title of fastest production car in the world for the USA with his $1.1 million supercar, and it could happen before the end of the 2012…or the world, whichever comes first.
After selling half a dozen of the road rockets over the past year, including one to Aerosmith frontman Steven Tyler, Hennessey's team is currently building a car for itself. Powered by a 1244 hp twin-turbocharged 7.0-liter V8, Hennessey says the Venom GT Spyder can hit 60 mph in 2.5 seconds and break 200 mph in less than 16 ticks.
He'll shakedown the car first at the Lonesstar Motorsports Park drag strip adjacent to his shop in Sealy, Texas, where he expects it will do 160-170 mph in the ¼ mile. From there it'll go to the runway at nearby Ellington Field airport, a 7,500 foot strip that should give it enough room to hit 225 mph.
After that, Hennessey hopes to pack things up and head to the Kennedy Space Center, where he is looking into using the 3.2-mile long runway built for the Space Shuttle to take a shot at the existing top speed mark of 268 mph held by the Bugatti Veyron Super Sport. NASA makes a couple of bucks on the side these days by renting the airstrip for this sort of thing.
And you thought the space program was a waste of taxpayer money.
Unfortunately, to get into the Guinness Book of World Records the car would have to carry that speed over a full kilometer, and there isn't enough room at KSC to do that and stop without suffering a small version of the Apocalypse.
Bugatti set the Guinness record at the only test track in the world with a long enough straight to do this sort of thing safely, which is in Germany and conveniently owned by its parent company Volkswagen. So there's little chance they'll be letting Hennessey drop by to show them up.
But the U.S. has its fair share of wide open spaces, and one of them is the Bonneville Salt Flats in Utah, home to more than a few land speed records over the years. If the runs in Florida go well, and he decides getting into Guinness is a necessity to put any doubters to rest, Hennessey says the earliest the weather will allow a trip to Bonneville is next spring. But there is another intriguing possibility that could present itself before then.
The last and essentially only time that an American car held the record in the modern era it was set by little-known Shelby Supercars in 2007 during a bonzai run on a public highway outside of the company's headquarters in West Richland, Washington, where its SSC Aero hit a top speed of 256 mph.
Texas is on the verge of opening a brand new 41-mile-long stretch of interstate between Austin and San Antonio that will boast the highest speed limit in the land at 85 mph. Before its open for business, Hennessey says the state might let him take the Venom GT Spyder for a spin.
He doesn't think it'll be flat and straight enough for a record run, but he hasn't ruled it out, either. Wouldn't that be the way to christen the fastest highway in the Western Hemisphere?
If nothing else, that'll be one quick trip to see the Alamo.
Read: Hennessey Ford GT sets standing mile record at 257 mph