Hawkei armored patrol vehicle hits the mark for Australian military
It wasn't named after a superhero, but it was designed to carry real heroes.
The Hawkei PMV (Protected Military Vehicle) is the Australian Defence Force's newest recruit. The department just ordered 1,100 of the new light armored patrol vehicles for about $800,000 each.
About the same size as the U.S Military's new Oshkosh L-ATV, the 15,000-pound Hawkei is similarly protected from both ballistic and roadside explosives thanks to a V-shaped hull design and armor constructed from ceramic composites and steel, but is still light enough to be transported into action by a CH47 Chinook helicopter.
The Hawkei was developed by a partnership between Thales, Boeing and armor specialist Plusan. Its name is taken from a species of death adder snake, and relates to the larger Bushmaster PMV currently in use.
The 4x4 truck can carry four-six passengers and rides on a fully independent double wishbone suspension system. It's powered by a Steyr six-cylinder turbo diesel that sends 260 hp and 450 lb-ft of torque to the wheels via six-speed automatic transmission. Its top speed is 80 mph, and it has an operation range of up to 373 miles.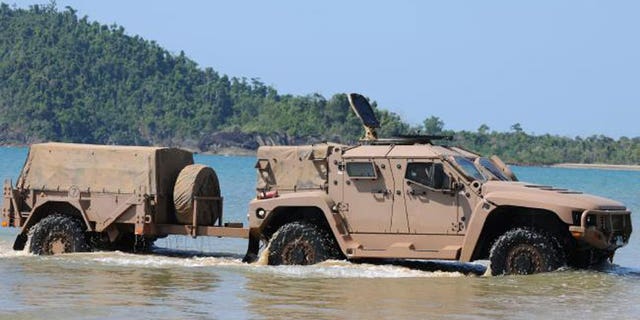 Specially-designed cargo trailers are part of the package, and Australian officials expect the vehicle to be adopted by some foreign militaries, as well. It will primarily replace the Land Rover Defender-based vehicles currently in use by the Australian Defense Force when it is deployed in 2016.