Harley-Davidson makes biggest changes to lineup in decades, seeks to 'transcend genders'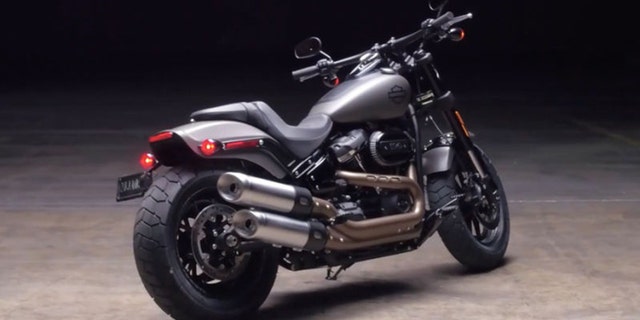 It has been an iconic American staple since 1903, but in a world where motorcycle rider numbers have been fast falling and core loyalists are hanging up their leathers, Harley-Davidson (HD) has unveiled some bold changes to appeal to a crucial upcoming audience.
Just don't call them millennials. In the brand's view, it's all about individuals and customizing.
"We definitely want to attract young riders, the 18-34 year-olds," Paul James, Director of HD's Motorcycle Product Planning, told Fox News. "Bikes that are nimble, easy-to-ride and easy to park … but still motorcycles that you don't throw away, passed on from generation to generation."
This week, the motorcycle giant revealed a game-changing 2018 lineup – in line with its 115th anniversary and quest to add two million new Harley riders to the roughly 8.5 million total U.S ridership by 2027.
Perhaps most shockingly for veteran devotees, HD announced that the 25-year-old, much-loved Dyna line is done. Rather, the Dyna look has been melded into the custom Softail range to create one all-encompassing line comprised of eight new Softail models, rolling into dealerships immediately.
Each comes with an upgraded suspension and a lighter, significantly more stiffer frame than the 2017 Softail models to allow for increased lean angles and quicker acceleration. They'll all be powered by new fuel tanks and bigger engines – the new 45-degree, Milwaukee-Eight 107 V-twin with dual counter balancers comes standard. And the Fat Bob, Breakout, Heritage Classic and Fat Boy models now come with an optional Milwaukee-Eight 114 upgrade.
"The new Softail models are the result of the most extensive research and development program in the company's history," James said. "We focused on taking the total rider experience to a higher level, where authenticity, heritage and soul meet the modern edge of technology."
Indeed, each 2018 Softail is set to come with signature LED Headlamps, a double-speed charging system, steering head mounted USB charge ports, keyless ignition and system security standard. The new touring lineup too is being touted as having undergone the most vigorous array of style changes in their history – subdued color schemes and dusky-hues in place of the traditional chrome.
For the brands top brass, it's all about interpreting its age-old history and styling through a "modern lens." And in the expedition to corner the young market, the next few years likely are to bring even more lane-splitting changes to the iconic American brand.
"We're exploring the idea of an electric model – doesn't have manual transmission, no heating, instant throttle," James added. "It's a market we plan to enter before 2020."
LIFELONG HARLEY-DAVIDSON RIDER GETS SPECIAL 'LAST RIDE' WITH BIG ENTOURAGE
HOW CALIFORNIA GUN OWNERS ARE LEGALLY KEEPING THEIR AR-15 RIFLES
The U.S motorcycling industry has been stuck in something of a tailspin for the last several years, with analysts predicting rider growth will continue to drop over at least the next five years as the current generation of young adults are believed to be taking up the hobby at far lower rates than previous generations.
Sales nationwide hit a high in 2006 at just over 715,000 and quickly started to splutter. Last year, the Motorcycle Industry Council reported that just over 371,000 new bikes had been bought – half of what was being rolled out of dealerships a decade earlier.
In 2003, only 25 percent of all U.S. riders were 50 or older. Just over a decade later, that rose to half and the populous is said to be aging ever since.
But along with gunning for the young adults, HD also is continuing to stay alive by revving toward the female market, the fast growing sector of new riders. Women made up just eight percent of the market share in 2009 and now stand at around 12 percent. In recent years, the company brought out "Ultra Low" street cruiser models with shorter-to-reach handlebars and narrower grips to accommodate petite hands, and in 2013 they released the Street 500 – smaller, simpler and geared toward the start rider.
Nonetheless, the brand's creatives maintain that it is all about being geared to neither gender, which has been its mandate long before the concept became ingrained in the modern lexicon. James pointed out that their bestseller for men – the Street Glide – has notoriously been and continues to be their bestseller for women.
"We have found that women ride for the same reasons that men do – to escape, for the fun, the freedom," James added. "We are about transcending genders."