GM's US-Made Subcompact Priced at $14,495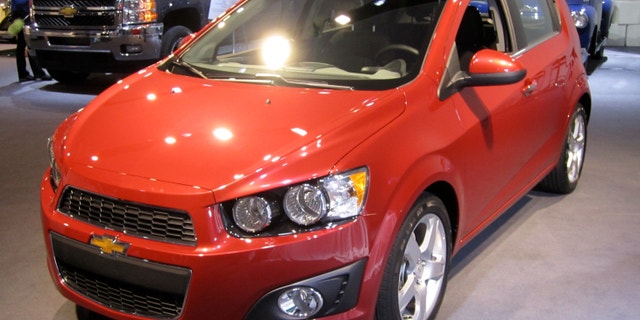 DETROIT -- General Motors (GM) was making a big bet on its smallest car, pricing the subcompact Chevrolet Sonic at a level comparable to well-established imports, The Wall Street Journal reported Monday.
Due out this summer, the car was set to start at $14,495, or $2,500 more than the model it replaces. The higher prices reflect a car loaded with features including 10 airbags in hopes that customers will pay up.
GM was introducing the US-made Sonic as its entry-level car, a category where consumers go for low prices -- and the automaker was forced to rely on low prices to compete with Asian rivals. The Sonic replaces the Chevrolet Aveo, built in Korea.
If the plan fails, GM could find itself stuck with a money-losing car plant. As part of a 2009 deal with the United Auto Workers (UAW) union to slash costs as GM headed into bankruptcy protection, the company agreed to become the first -- and only -- manufacturer to build a subcompact in the US. It would not disclose production for the vehicle, but said it would run two shifts a day at the Sonic's Michigan plant.
Ford Motor Co. at one point looked at making a subcompact car in the US, but ruled it out, according to people familiar with the matter. Even at GM, some top executives who joined after bankruptcy questioned the logic of the move, people familiar with the discussions said. Last year, the UAW agreed GM could staff the factory with lower wage workers in a bid to make the plant profitable.
GM said Sonic could be the first successful US-made subcompact because consumers were demanding more and willing to pay more for small cars with good fuel economy, said Margaret Brooks, marketing director for GM's small cars.
Click here for more from Fox Car Report