GM Closing Hummer Despite Offer on the Table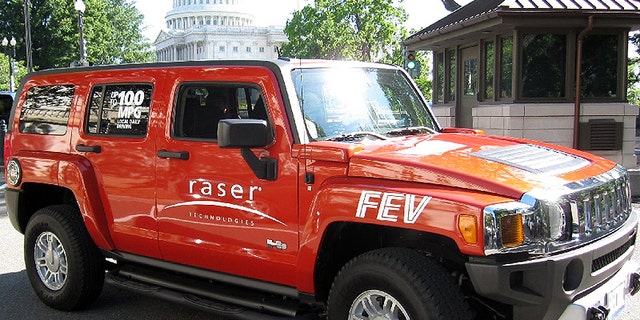 General Motors says it will proceed with the shutdown of the HUMMER brand, but TheCarConnection has confirmed that an American company has twice expressed interest in a HUMMER deal--both before and after a failed bid from a Chinese company.
Raser Technologies is a Utah-based engineering firm that has produced electric-conversion 2009 HUMMER H3 prototypes. According to sources, Raser made an offer for HUMMER but was denied in favor of the eventual bid by Chinese truckmaker Sichuan Tengzhong--a bid that eventually failed due to lack of financing and possibly, pressure from the Chinese government.
The same sources indicate Raser bid again in a second round after Tengzhong's offer fell apart. Raser is said to have met nearly all the conditions for a HUMMER acquisition that were laid out for potential bidders. While a final offer price has not been confirmed, the Tengzhong bid topped $150 million, and any subsequent offer would likely have been worth far less.
After a potential takeover of the brand from GM, Raser's plan would have been to turn HUMMER into a "green" brand. According to the company's Web site, Raser's main focus is on geothermal energy, but the company has also developed its own extended-range plug-in hybrid technology that could be beneficial--or a direct competitor--to General Motors' own patents for "E-REV" hybrids like the upcoming Chevrolet Volt.
Last year, Raser showed its technology in a HUMMER H3 at the 2009 SAE Congress, and later shipped the test vehicle to Sacramento for a test drive by California Governor Arnold Schwarzenegger, one of the recurring characters in the HUMMER story since the brand was created with GM buying the name rights from military supplier AM General.
The Raser plug-in HUMMER H3 offers performance specs that sound similar to those of the Volt--with 40 miles of battery-only operation possible, and a 400-mile driving range in all, with 100-mpg-plus fuel economy possible according to Raser's estimates.
GM said earlier this week it would proceed with a HUMMER shutdown, but as its recent experience with Saab would indicate, there remains a chance HUMMER could be sold.
GM said last year it would shut down the HUMMER brand as a coda to its bankruptcy filing. While it closed Pontiac on its own, it attempted to sell three other brands to recover some of its huge investments. HUMMER has been one of those brands; after lengthy negotiations with Koenigsegg, GM sold the Saab brand to Victor Muller's Spyker, after he met conditions for a $500 million loan from the European Union. The final orphan brand, Saturn, nearly was sold to Penske Automotive Group, but in the final negotiations Penske declined to complete the deal after it failed to line up a source for new vehicles for the never-profitable brand.
Spokesmen for Raser and HUMMER would not comment on the record.
TheCarConnection's sources also indicate that to their knowledge, India's Mahindra group, which is preparing to sell its compact trucks in the U.S. and has long been suggested as an ideal suitor for HUMMER, never has expressed interest in acquiring the brand.