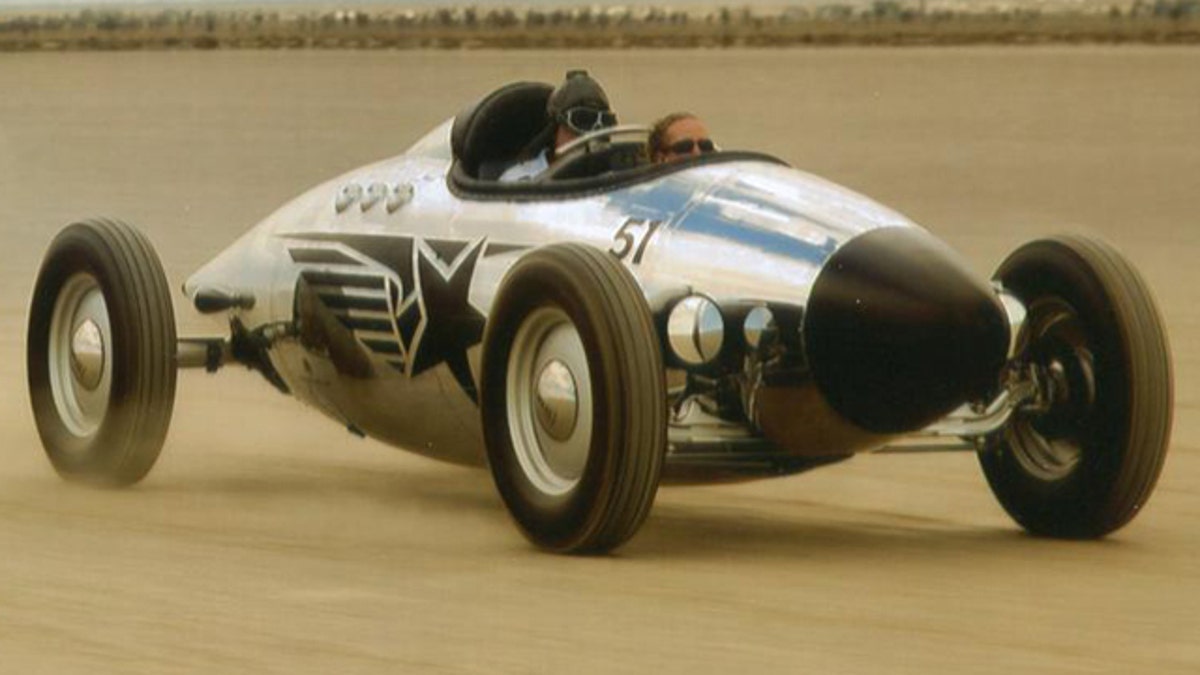 When Ed Pettus found a 700-gallon wing tank from Lockheed Super Constellation aircraft, he knew exactly what he wanted to do with it.
Why, build a gigantic lakester speed-trial car, of course.
"I've been a hot rodder all my life," said Pettus, a Cedar Rapid, Iowa, auto-shop owner who's also a licensed pilot. "And this is the most fun car I've ever built."
What he came up with is a vintage-looking, tandem-seat roadster (with the driver's seat in the back, aircraft style) that combines his love for classic speed-trial cars with his enthusiasm for vintage aircraft.
The Crow Lakester runs and drives, and he's had it out to the famous El Mirage dry-lake speed course where he not only ran it but gave rides to his family and friends.
"How fun is it to ride in a (Bonneville) Salt Flats car?" Pettus said. "How many people actually get to ride in one?
Pettus, who built the lakester with the help of his professional car-restorer son, Ed Jr., said it is time to hand it over to a new owner, so he's brought it to sell at the Barrett-Jackson Collector Car Scottsdale auction (Lot #1236).
The Lakester recalls the hot little roadsters that were built out of surplus wing tanks after World War II during the early days of hot rodding, and then used to run for speed records at the Salt Flats and California dry lakes. They were small and aerodynamic and it didn't take a ton of horsepower to push them through the air. Just add wheels and go.
Click here for full coverage of the Barrett-Jackson auctions on Speed
Pettus' huge Lakester – fully 17-and-a-half feet long – is a cool piece of work, maintaining the patina of a vintage race car and incorporating old-style aircraft technology, mostly from Lockheed parts. In the double cockpit are a pair of genuine 1948 Lockheed Neptune steel gunner seats with real military web-strap seatbelts. The steering "wheel" is from a classic 1948 Rockwell Aero Commander.
The stark gauges are all Lockheed, and just to drive home the point, it has an air-speed indicator instead of a speedometer.
"It's a Lockheed lakester," Pettus said proudly.
The gleaming aluminum body carries on the theme, polished but left with its original patina, rough welds and all; it was being used as a hot-water tank when Pettus discovered it. He's added an aerodynamic headrest built from an aircraft fuselage, and a group of side scoops were hand-cast in aluminum out of parts from an old La Salle.
Pettus showed off the front end, the axle taken from an antique truck and the long radius arms once part of a 1944 farm tractor.
Watch Maxim's Hometown Hottie April Rose check out the Barrett-Jackson auctions
The Lakester took about 18 months to build, and while Pettus worked on the oddball project at his son's restoration shop, most people who saw it while it was half finished were perplexed, he said.
"Nobody thought much of it until I got the wheels on," he said. "Then they thought it was cool."
Those wheels and tires seem awfully huge, but Pettus pointed out that he had to make the effort to keep it looking correct on a monumental scale. The headlights and taillights are pretty large, too, taken from a 1930s luxury car.
"To keep it in proportion, I had to use some big stuff," he said.
The engine is not all that gigantic, though, in true vintage-lakester form and because space in the back of the wing tank is at a premium. The 1.8-liter four-banger from a Toyota is boosted by a supercharger, though, to produce around 200 horsepower. That's plenty of juice to motivate an 1,100-pound streamlined car, Pettus noted.
As for its worth at auction, the Crow Lakester has to be seen as a true wild card, value unknown. Barrett-Jackson has had plenty of luck with such individualistic and even artistic efforts, with the outlandish creations of the Blastolene Brothers and wacky movie and TV cars fetching some decent bids over the years.
"This is kind of my own creation," Pettus said. "This is just an old fuel tank that I found and thought I'd make it my own."
Bob Golfen, Automotive Editor for SPEED.com, is a veteran auto writer based in Phoenix, Arizona, with a passion for collector cars, car culture and the automotive lifestyle.