FTC sues VW over false 'Clean Diesel' advertising claims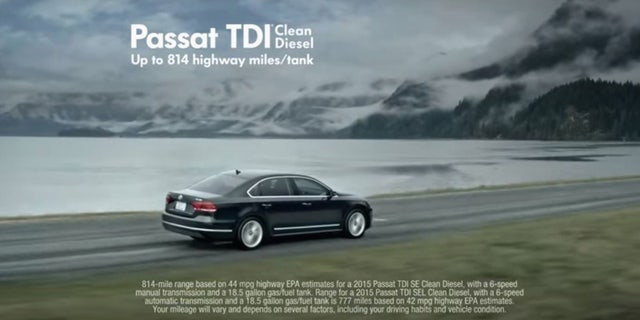 A federal consumer watchdog sued Volkswagen on Tuesday, charging the company made false claims in commercials promoting its "Clean Diesel" vehicles as environmentally friendly.
The German automaker hastily pulled the ads following last year's admission it had installed illegal software on its diesel vehicles to cheat emissions tests. U.S. regulators say Volkswagen's engines spewed up to 40 times the allowed levels of air pollutants in real-world driving conditions.
The Federal Trade Commission alleges that Volkswagen deceived customers during a seven-year period by selling its diesel cars based on fraudulent claims made through its marketing campaigns. That campaign included Super Bowl ads, online social media campaigns and print advertising targeted to "environmentally conscious" consumers.
"Hybrids? They're so last year," Volkswagen proclaimed in a mailer to customers promoting its 2009 Jetta TDI. "Now going green doesn't have to feel like you're going green."
The FTC's action is the latest blow to Volkswagen, which also faces more than $20 billion in potential fines for violating U.S. clean air regulations.
"For years Volkswagen's ads touted the company's 'Clean Diesel' cars even though it now appears Volkswagen rigged the cars with devices designed to defeat emissions tests," said FTC Chairwoman Edith Ramirez. "Our lawsuit seeks compensation for the consumers who bought affected cars based on Volkswagen's deceptive and unfair practices."
The Justice Department and the Environmental Protection Agency are also weighing potential criminal charges against the company and senior executives. The company also faces hundreds of class action lawsuits filed on behalf of angry customers.
A federal judge in California overseeing the raft of civil litigation has given the company until April 21 to come up with a recall and compensation plan covering the nearly 600,000 diesel cars sold in the U.S. containing the so-called "defeat devices" designed to game government emissions tests.
Volkswagen Group of America spokeswoman Jeannine Ginivan said Tuesday the company is reviewing the latest lawsuit and "continues to cooperate with all relevant U.S. regulators."
"Our most important priority is to find a solution to the diesel emissions matter and earn back the trust of our customers and dealers as we build a better company," Ginivan said.
With scores of unsold diesels collecting dust on the lots of VW's dealers, legal and auto industry analysts predicted the company's woes will continue to deepen.
"Every government agency that is even remotely impacted by this situation will sue to recoup what they consider damages to the agency's constituents," said Rebecca Lindland, senior analyst at Kelley Blue Book. There's really no end in sight to this situation and all VW can do is continue to cooperate and work on a fix."
Alan Brown, general manager of a VW dealer in Lewisville, Texas, and chairman of the company's National Dealer Advisory Council, said dealers are eager to get the scandal behind them. He said diesel-powered VWs previously accounted for 25 percent to 40 percent of sales for many U.S. dealerships.
Brown said he didn't think the latest lawsuit will hurt sales any further because it raises issues that have been aired previously.
"I think at this stage of the game, nothing really shocks any of us," he said of the FTC lawsuit. "The dealers just want the distractions to go away. There's nothing worse than the public wanting your product and you can't sell it."