Formula One Champ Sebastian Vettel Designs a Crossover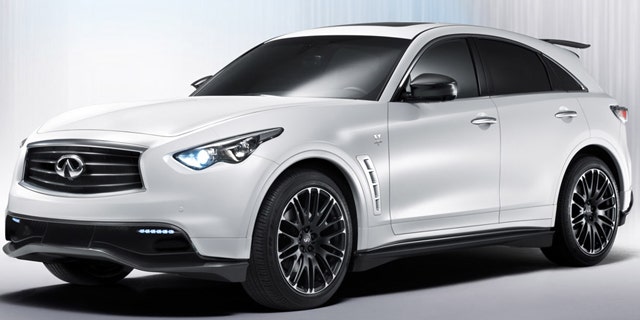 The Red Bull Racing Formula One cars are powered by Renault engines, but carry the name Infiniti on their livery. It's a convoluted bit of branding, as Renault is allied with Nissan, which runs the luxury brand.
Now the relationship is going even deeper with Infiniti releasing an image of one of its FX50s that has been redesigned with a little help from Red Bull driver, and reigning Formula One Champion, Sebastian Vettel.
The single photo shows the five-door crossover with a new grille, F1-inspired front splitter, a big spoiler at the trailing edge of the roof, unique blacked-out wheels and "Vettel" badges on the front fenders.
No word on performance enhancements, interior trim or when or if the concept will go on sale, but the car will be officially unveiled at the Frankfurt Auto Show in Septemember, with Vettel on hand to do the honors.
And if you think a family car like the FX50 is an odd choice for the German racer's first crack at designing a car, he apparently drives one when he's not at work.