Ford's Heavy Duty Hybrid Truck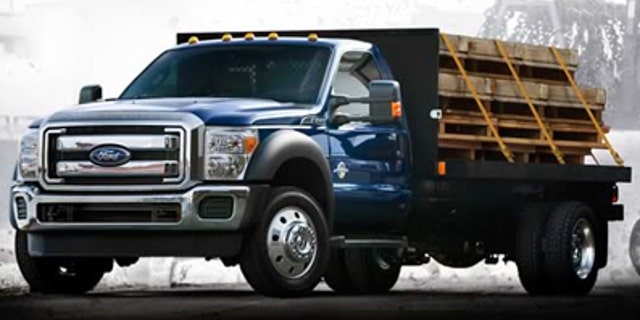 Ford has announced plans to sell a battery-powered version of one of the largest vehicles it makes, the F-Series Super Duty cab and chassis truck.
The automaker is teaming up with Azure Dynamics, the electric propulsion specialist that builds the Ford Transit Connect Electric van, to bring a plug-in hybrid version of the powerful work truck to market in 2013.
The first model will be based on the top of the line F-550, but will be followed by F-350 and F-450 versions. Technical details are still being sorted out, but an insider tells FoxNews.com that the vehicle is likely to use a parallel hybrid powertrain designed around one of the internal combustion engines currently used in the Super Duty.
In theory, this layout means that the plug-in hybrid could operate on battery power alone over short distances like a Ford Fusion Hybrid, or programmed to act just as an assist for the gas or diesel motor.
Ford sells about 50,000 Super Duty trucks each year and cites a growth in interest in alternative energy products for the decision to offer a hybrid model. The conversion will be done by Azure Dynamics, but the vehicles will be sold and serviced by select Ford dealers.
The companies haven't released fuel economy projections for the truck, but Azure Dynamics currently offers a hybrid Ford E-450 commercial van conversion that gets 40 percent better fuel economy than the conventional version.
Click here for more from Fox Car Report