F1 teams mull options for Bahrain race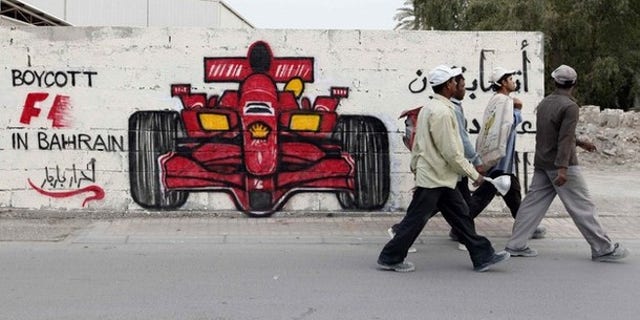 LONDON -- Formula One teams were weighing the risks Monday of a return to racing in Bahrain this month, following the cancellation of the 2011 Bahrain Grand Prix due to violence and political unrest in the Gulf State.
Jean Todt, the president of the sport's governing body, the Federation Internationale de l'Automobile (FIA), and Bernie Ecclestone, the CEO of Formula One, say the 2012 race will go ahead despite continuing unrest in the country.
But The (London) Times reported Monday that Formula One teams have drawn up plans to abandon the 2012 race amid fears that security in Bahrain will deteriorate further.
Hundreds of engineers, mechanics and catering staff have been issued with two return tickets from the grand prix in China this Sunday, the newspaper reported.
One of the return tickets is for Bahrain, which is scheduled to host the Bahrain Grand Prix on April 22. The other tickets -- to be used in the event of a race boycott or cancellation -- is for Europe or back home.
British lawmakers told the newspaper that concerns about human rights abuses in Bahrain had not been sufficiently addressed in the Gulf state since last year's race was canceled, and that the 2012 event should be scrapped too.
"How has Bernie Ecclestone been satisfied that this year is different?" one lawmaker said.
Ann Clwyd, a Labour lawmaker and member of the Foreign Affairs select committee, said, "People have to show their condemnation of what is going on in Bahrain by staying away."
Debate over whether the 2012 Bahrain Grand Prix would go ahead began almost immediately in the months following the cancellation of the 2011 event.
In December, the race was included on the FIA Formula One World Championship calendar despite continuing uncertainty over whether it would go ahead.
The Formula One Teams Association -- which represents seven of the 12 constructors -- is to meet in Shanghai this week to discuss how to proceed with the race.
Among the concerns for the teams is whether insurers will decide that the risk of covering more than 600 personnel and millions of dollars' worth of equipment is too great.
Click here for more news from FoxNews.com Autos