Donald Trump's old Lamborghini for sale
Mexican-made Fords may make Donald Trump blue in the face these days, but blue Italian supercars?
Yea, he used to have one of those. And it's for sale.
Records show that Trump picked up the Lamborghini Diablo Roadster VT in 1996, and sold it a few years later. The 1997.5 model year car was reportedly the only Lemans blue one built that year.
The all-wheel-drive two-seater features a 493 hp 5.7-liter V12, 5-speed manual transmission, black and white interior, and a Donald Trump Diablo 1997 badge of unknown provenance affixed to the door jamb.
A faux Trump 2016 sticker has recently been added to the rear window for effect, and a removable roof panel lets you get plenty of wind in your hair.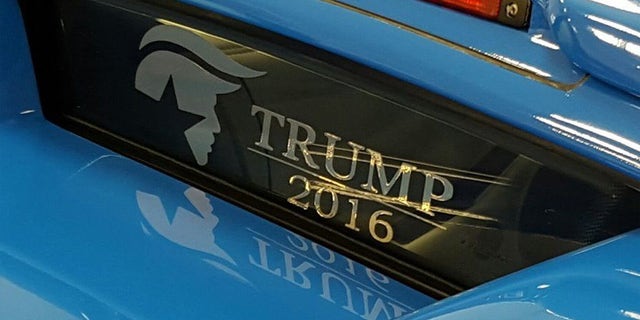 NEWYou can now listen to Fox News articles!
The car currently has 15,277 miles on the odometer and is being offered on Ebay through September 18 for an undisclosed reserve price that's at least $460,000. That's about $150,000 to $200,000 more than similar Diablos typically sell for today.
But depending on how things go on November 8th, this may not be a typical Lamborghini.