Dodge Challenger SRT Demon priced at $86,090
The Demon may be a devilishly good deal for what's purported to be the world's quickest car.
Dodge's new 808 hp Challenger SRT Demon will cost $86,090 when deliveries begin this fall.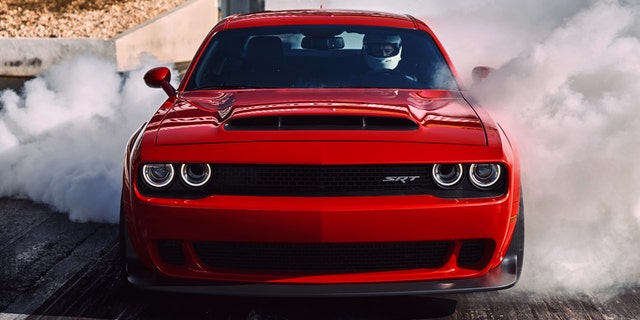 That's a little less than a $20,000 premium over the 707 HP Challenger SRT Hellcat it's based on, but the Demon comes with more than the extra power and drag-racing technology that makes it special, if you're willing to spend a buck more.
THE DODGE DEMON IS AN ABSOLUTE BEAST
Just $1 gets you the Demon Crate, which is worth $6,140 and comes with a set of tools and parts to use at the track, plus a conical air filter and an engine control module that gives the Demon's 6.2-liter supercharged V8 the ability to run on 100+ octane race gas and pump out 840 hp.
A passenger seat for the Demon -- which only comes with a driver's seat -- is also available for $1, as are a rear bench and a carpet for the stripped-out trunk.
Red seat belts will set you back a bit more at $195, while several other packages are available, including a $2,495 comfort group that comes with leather upholstery, heated seats and steering wheel, and an 18-speaker audio system for the most luxurious 9.65 quarter-mile trip down the drag strip you can imagine.