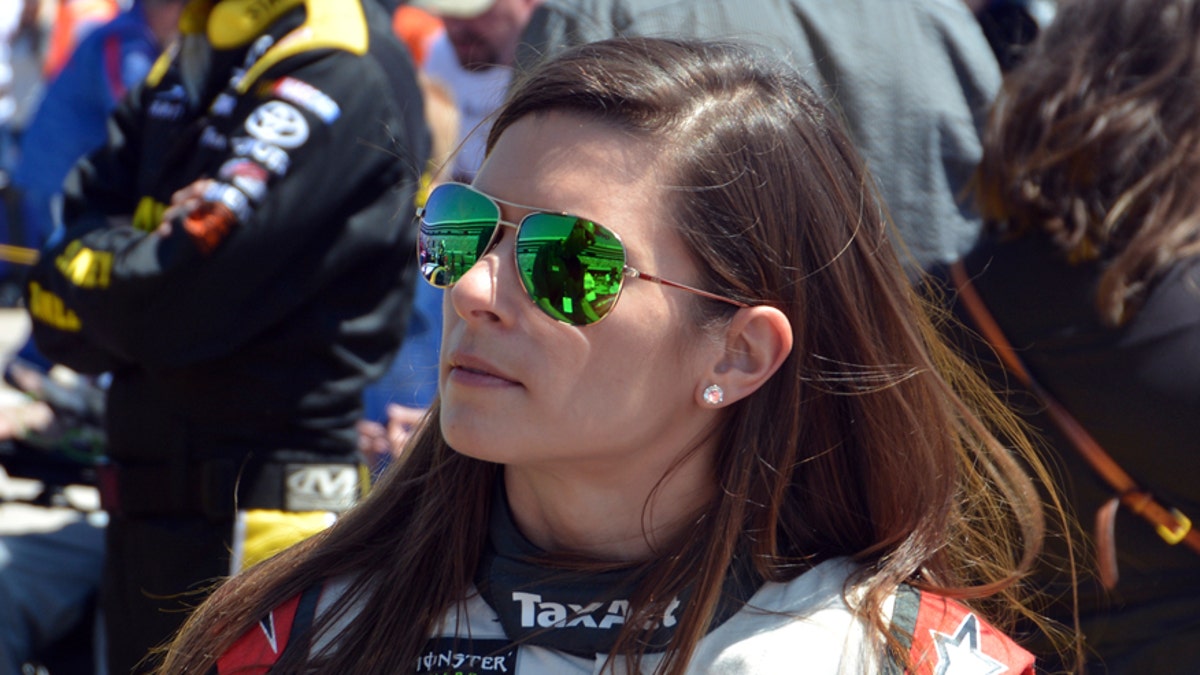 Danica Patrick, who drives the No. 10 Ford for Stewart-Haas Racing in the Monster Energy NASCAR Cup Series, took some time during her busy Bristol Motor Speedway weekend to talk with the media.
Here are the highlights of a question-and-answer session that covered everything from her thoughts about NASCAR drivers crossing over to the Indy 500, and vice versa; racing on the short track at Bristol; and life with her boyfriend, fellow Monster Energy NASCAR driver Ricky Stenhouse Jr.:
With former Formula One champion Fernando Alonso entering this year's Indy 500, do you think there are drivers in other series who could jump over to NASCAR for one-off races?
Patrick: "I feel like with Indy cars, you can just show up -- if you are equipped to build and make a nice car, then you could be competitive.
"But in NASCAR I don't see that even being possible for someone to just show up with a car. There's too much evolution of the tricks and bells and whistles and all the things it takes to be fast in stock-car racing that you wouldn't know."
What are your thoughts on NASCAR considering giving teams options on which tires to use during a race?
Patrick: "I did that in Indy car. We had the standards and the reds -- blacks and reds -- so I've been there to experience that. ...
MORE NASCAR NEWS FROM FOX SPORTS
"The reds were just normally better. They lasted. They were faster. They had more grip. So the tire that was meant to wear out and have a compromise at the end really was not. ... There will be a better tire and everyone will want to run it more of the time."
How are things at the Stewart-Haas Racing shop?
Patrick: "For the most part, we go in and we sit in a conference room for our meetings on Monday and there's not a lot of people in the shop because it's the Monday after a race.
"So I don't see a ton of people, but you never feel like people aren't working hard. You always feel like there's an effort...You're always trying to figure out ways to make you better."
Did you learn anything during the recent Daytona tire test?
Patrick: "There wasn't anything really racing-wise that moved the needle, but there were some things that were tried to make the cars lift off less easily if they get spun around backward, so that was fine.
"There were only five of us (in the test). You can go out there in a pack of 15 and still not really know what it's going to be like in the actual race until you're in it. It's pretty hard to really have a race-like scenario. You don't even want a race-like scenario at a superspeedway unless you're actually racing -- because it's risky." an effort. ... You're always trying to figure out ways to make you better."
When Ricky made an aggressive move on Kyle Busch at Martinsville, did that open some eyes to stage racing?
Patrick: "I feel like that's part of the design of the structure, that it creates a need for something, a need to get that last spot (in a stage) for points, a need like in Ricky's position to get back on the lead lap before the yellow (at the end of the stage).
"I think that's by design. I'm always OK with aggressive driving when it's for something. ... He got back on the lead lap and it changed his day. I feel like that's what the structure is for."
Are you already planning your next April Fool's day joke?
Patrick: "I feel like I did a really good job with April Fool's. I even had my sister wondering (if Patrick and Stenhouse had actually gotten engaged). She was like, 'Seriously, this is not how I'm supposed to find out.'
"But it was funny. I'm not really much of a prankster, not much of a joker, but I was inspired and Ricky played right along. ... I was hoping that most girls would have looked at that picture, though, and said, 'That ring looks a little cloudy.' He can do better than that."
Did you promise your sister that won't be the way she finds out, on social media?
Patrick (laughing): "Actually, it was a good experience in knowing that there is a whole different protocol for letting friends and family know -- and it's not social media.
"It might take a minute (if and when they actually get engaged) to get to social media based on that experience, but I think that's understandable. We have been together four-plus years, so I'm sure people would want to know."
Are you putting pressure on Ricky?
Patrick (laughing again): "Oh, he knows."