Dale Earnhardt Jr. tweets support for anthem protesters after Richard Petty says he'd fire them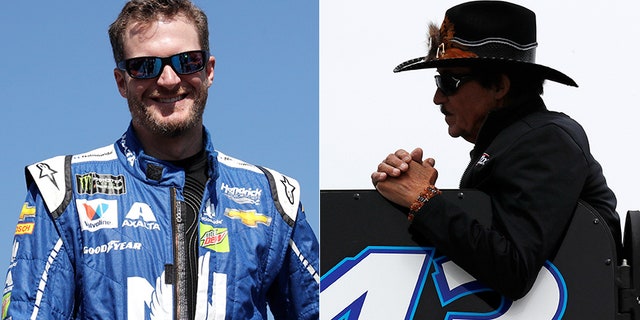 NASCAR legend Richard Petty said this weekend that he'd fire anyone who works for his racing team if they didn't stand for the national anthem at one of the racing series' events.
"Anybody that don't stand up for the anthem oughta be out of the country. Period. What got 'em where they're at? The United States."
No NASCAR drivers or team members were seen protesting during the national anthem before Sunday's race at New Hampsire Motorspeedway, but Dale Earnhardt Jr. tweeted on Monday morning that "all Americans R granted rights 2 peaceful protests."
The driver, who is retiring at the end of this season, added a quote from John F. Kennedy that reads "those who make peaceful revolution impossible will make violent revolution inevitable."
President Trump, who has been critical of the NFL for its handling of the athem protests taking place before games, tweeted praise early Monday morning for the broader NASCAR community's stance on the situation.
Team owner Richard Childress echoed Petty's view, telling his staff that they should respect the country they live in because so many people gave their lives for it, and that protesting will "get you a ride on a Greyhound bus."
Another team owner, Chip Ganassi, said he supports Pittsburgh Steelers coach Mike Tomlin's comments. Tomlin said before the Steelers played on Sunday that players would remain in the locker room and that "we're not going to let divisive times or divisive individuals affect our agenda."
Team owner Joe Gibbs, who won three Super Bowls as coach of the Washington Redskins, said of the anthem that, "so much has been sacrificed for our country and our flag. It's a big deal for us to honor America."
"I'm proud of the way we've represented ourselves, and I'm proud of this sport, too," Gibbs said after JGR driver Kyle Busch won at New Hampshire. "I think this sport has a certain way they look at things. I really appreciate that."
NASCAR said 2016 champion Jimmie Johnson had not been invited to the White House for recognition as he had in the past, but that it necessarily wasn't out of the ordinary because of the change in office.
The Associated Press contributed to this report