Consumer Reports says it can't recommend the Tesla Model 3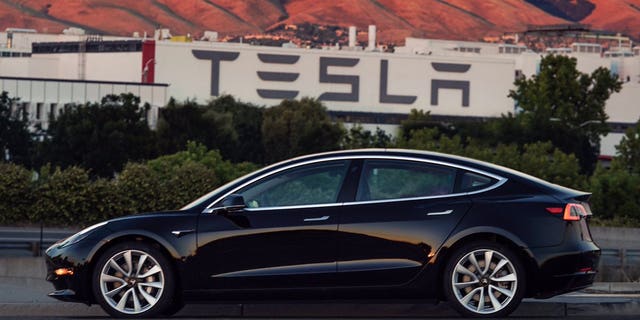 NEWYou can now listen to Fox News articles!
Consumer Reports said on Monday that it cannot recommend the Tesla Model 3 after the high-profile model disappointed in several key areas, despite praising its overall performance.
In particular, the compact Model 3 required a seven-foot longer distance than a much larger and heavier Ford F-150 pickup to brake from 60 to 0 mph.
The Model 3 took an average of 152 feet to come to a complete stop, compared to Tesla's claim of 133 feet. Consumer Reports wrote that it recorded a single stop of 130 feet, but was unable to repeat it. It then put a second Model 3 through its testing protocol as a control, and said that the results were nearly the same.
Consumer Reports automotive testing coordinator K.C. Cowell called the results "weird."
A Tesla spokeswoman responded that the company can potentially improve the car's braking through an over-the-air software update.
The organization also took issue with Tesla's touch screen interface, which controls nearly all of the car's functions and requires "multiple steps to accomplish simple tasks."
"These types of complex interactions with a touch screen can cause driver distraction because each act forces drivers to take their eyes off the road and a hand off the steering wheel," the report said.
Consumer Reports also faulted the Model 3 for being loud on the highway and having a stiff ride, but said it was thrilling to drive, likening it to a Porsche 718 Boxster sports car.
The car also managed to go 350 miles on a singlecharge, which Consumer Reports said is a record in its testing and is a distance that "could make an EV a viable choice as a daily driver for even more consumers."