Company Proposing HUMMER 'Volt', Reprise for H2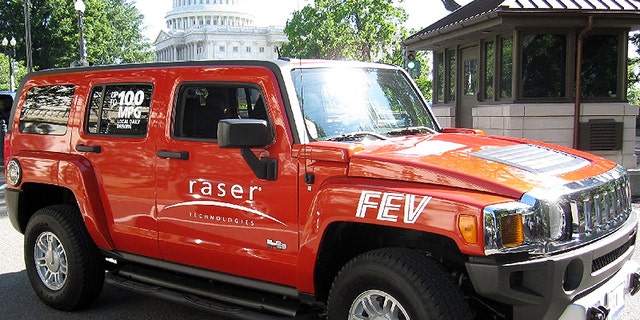 Raser Technologies remains interested in acquiring GM's HUMMER brand--and plans a new model range including extended-range electric HUMMER H3 models as well as a new compact H5 off-roader if it convinces the automaker to sell it the brand and associated factories and contracts for manufacturing.
GM has said it plans to shut down HUMMER after Chinese truck maker Sichuan Tengzhong's bid was terminated earlier this year by the American automaker.Last week, The Car Connection reported that Raser had twice bid for HUMMER's assets, before Tengzhong's bid was accepted and then terminated. Utah-based Raser, which has developed a plug-in hybrid HUMMER H3 test-driven by enthusiast owner and California Governor Arnold Schwarzenegger, submitted a second bid after Tengzhong failed.
GM says it will shut down the brand, rather than sell to Raser.GM did not respond to The Car Connection's request for more information, but last week it suggested to The Atlantic that it had concerns over Raser's ability to service warranty claims. No specifics on how Tengzhong, which has no experience in the American car market, would do the same, have been offered.
A source tells The Car Connection that the Raser plan for HUMMER would involve three key products:
The existing HUMMER H3, which would be adapted with Raser's own plug-in hybrid system, for sale by 2013. The Raser system bears some passing resemblance to GM's own Voltec power train set to debut in the 2011 Chevrolet Volt, using a small four-cylinder engine to recharge lithium-ion batteries;
The existing HUMMER H2, which would carry over for a short time as Raser retools to build a new range of "green" HUMMERS;
And a new compact H5 sport-utility vehicle which would also sport extended-range, plug-in hybrid technology at a future date.
The Raser bid centers around the transformation of HUMMER into a symbol of American renewal--exchanging HUMMER's environmentally unfriendly image for one bound up in hybrids and electric vehicles. Sources suggest the Raser HUMMER H3 could achieve a highway fuel economy rating up more than 32 mpg, with technology proven production-ready by a range of manufacturers.
Click here for more from TheCarConnection.com