CNG option on GM pickup trucks priced at $11,000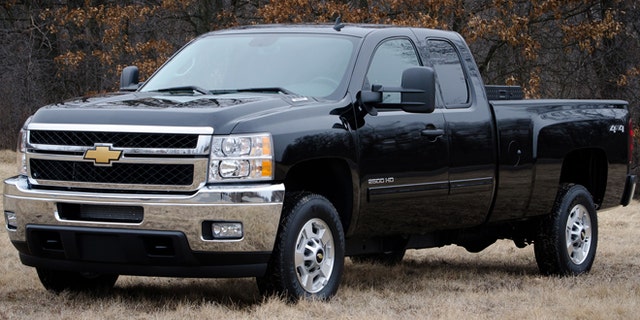 If you want to join the fight against imported oil, you'll have to pay to enter.
But stay long enough, and you may get your money back.
General Motors has announced that its upcoming line of compressed natural gas-capable pickup trucks will cost $11,000 more than the standard vehicles they are based on. The bi-fuel Chevrolet Silverado HD and GMC Sierra 2500 HD trucks can run on either CNG or, for situations when it's not available, gasoline.
Pricing on the conventional Silverado and Sierra HDs starts at around $40,000.
The 6.0-liter V8-powered extended cab bi-fuel models will come in long or short bed versions and with rear or all-wheel-drive. A tank for the CNG takes up a large section of the forward part of the bed, but the vehicles are otherwise identical to their single-fuel stablemates.
The bi-fuel vehicles are available for retail sale, but will be targeted at fleet managers looking to lower their fuel costs. CNG prices vary widely state to state, but the current national average for the equivalent of a gallon of gasoline is $1.89. According to GM, an operator could save $10,000 in fuel costs per truck over three years.
Although the public CNG refueling infrastructure is limited, retail buyers can have a small pump installed at home, while fleet operators often have commercial refueling stations installed on their lots. CNG-powered vehicles boast lower emissions than their gasoline and diesel counterparts, and nearly all of the gas used in the United States is sourced from North America.
Chrysler's Ram division is also offering a bi-fuel versions of its heavy duty pickup this year that carries a premium of about $11,000 over the standard models, as well.
GM will start taking orders for the Chevy and GMC pickups on April 19th, with deliveries scheduled for the end of the year.
Read: GM plots revenge of the midsize truck