Chrysler to Introduce Hybrid Minivan by 2013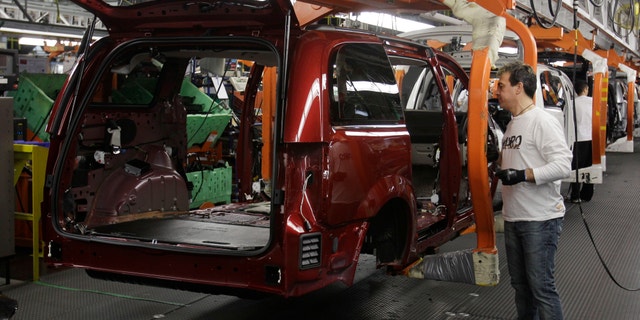 How quickly things change in the automotive industry these days.
Just last week at the North American International Auto Show in Detroit, Dodge President and CEO Ralph Gilles told Foxnews.com that the company had no immediate plans to introduce a new hybrid into the marketplace, citing the high cost of what he described as a "money losing" technology.
As a specific example, he said "for the everyday person that needs a car like a minivan, there's just no way we can offer a vehicle in the mid-$25,000 range that's the size of a minivan and still be functional. People just won't pay the overage," Gilles says.
Now comes word that the company intends to introduce just such a vehicle as soon as 2013, though pricing has not been announced.
Chrysler is debating the future of its minivans even as it starts making the 2011 Dodge Grand Caravan and Chrysler Town and Country this week.
"We need to completely rethink the minivan," CEO Sergio Marchionne said Tuesday at the Canadian plant where Chrysler's minivans are made. "We need to retain all its functionality but make it much more versatile."
Marchionne said that could mean new products that can still carry a lot of people but won't look like traditional minivans. A team within the company is also studying whether to continue both the Town and Country, which is more upscale and starts at $30,000, or the Grand Caravan, which is about $7,000 cheaper. Both are made on the same frame.
At the Detroit auto show last week, Marchionne said offering both minivans in Chrysler dealerships is confusing to customers.
Marchionne said Chrysler Group LLC is developing a new frame that can be used for minivans or other kinds of vehicles and will come out in 2013 or 2014. That will allow the company to build smaller minivans, crossovers, or cars depending on what buyers want.
That's a similar strategy to Ford Motor Co., which released a new small minivan at the Detroit auto show last week. The company's seven-seat C-Max minivan is built on the frame of a Ford Focus small car. The van will go on sale at the end of this year. Hybrid and electric versions will follow.
Now, only minivans can be built off Chrysler's minivan frame.
Chrysler also plans a hybrid minivan by 2013, Marchionne said.
Gilles said a team within Chrysler is determining its next moves but is far from deciding whether to cancel either the Grand Caravan or the Town and Country. The team wants to watch 2011 sales.
He also said Chrysler needs to proceed carefully with products that have been popular. The company has sold 13 million minivans since it first launched them in 1983.
"You'd hate to kill a nameplate that's recognized," he said.
Chrysler controls about a third of the U.S. minivan market, but rivals are nipping at its heels. The Chrysler Town and Country was the top-selling minivan in the U.S. last year, with sales of 112,275, or about 4,000 more than the Honda Odyssey.
"We are not going to give up one inch of territory," Marchionne said.
Chrysler said the 2011 versions of its minivans have a new V-6 engine with improved fuel economy. One amenity is an optional heated steering wheel, a first among minivans.
The Associated Press contributed to this report