Car plows into Brooklyn cafe, injures 4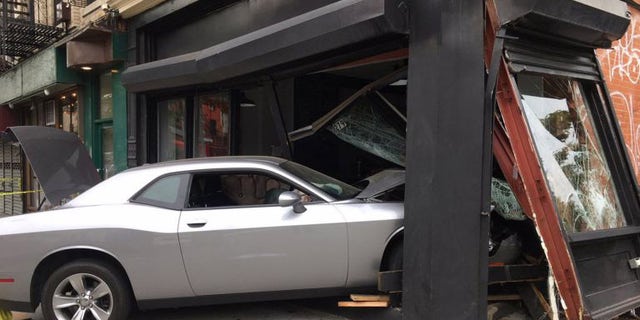 An out-of-control driver plowed through a Brooklyn café Thursday, injuring four people, including himself, officials said.
The silver Dodge Challenger — which has a Florida license plate — slammed into the Civil Service Café at the corner of Nostrand Avenue and Clifton Place in Bedford-Stuyvesant around 8:40 a.m., leaving windows shattered and a gaping hole in the storefront.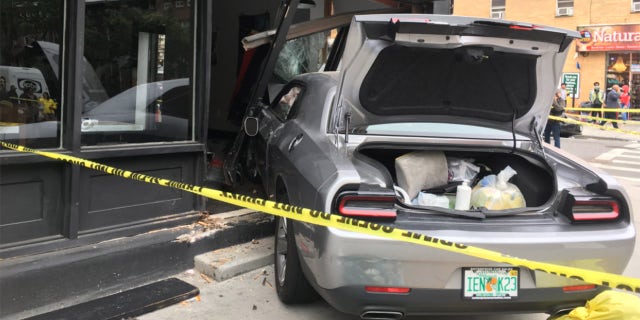 FDNY Chief Kevin Sullivan told reporters at the scene that two patrons inside the establishment were seriously injured in the crash and rushed to New York-Presbyterian Brooklyn Methodist Hospital.
One of those customers was found outside the cafe on the ground by the time first responders arrived, Sullivan said.
The driver, whose identity was not immediately known, suffered minor injuries and was also hospitalized.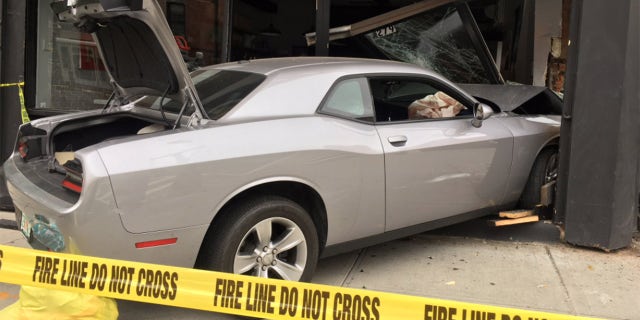 A fourth person refused medical attention at the scene, according to officials.
It was not immediately clear what caused the crash, but investigators were looking into whether a second vehicle collided with the Challenger, causing it to jump the curb and plow into the cafe, police said.
A man who witnessed the aftermath of the crash said he overheard the driver say "somebody hit me" following the collision.
"The first thing I saw was the guy lying on the street. He got up at first and then he fell back down. They put oxygen on him," the witness said. "The woman who was inside, I saw her ankle was at a 90-degree angle when EMS brought her out."
Bystanders were thankful that more people were not injured.
"It's really a blessing more people weren't hurt. People usually sit in that corner every morning. It's a WiFi spot, so people go there to do work," Barbara Anderson said.
Nostrand Avenue resident Johnny Guerreo said motorists "drive up and down the street like maniacs" every morning.
"They don't respect the lights," Guerreo said.