British Plumber Builds 'World's Longest Motorcycle'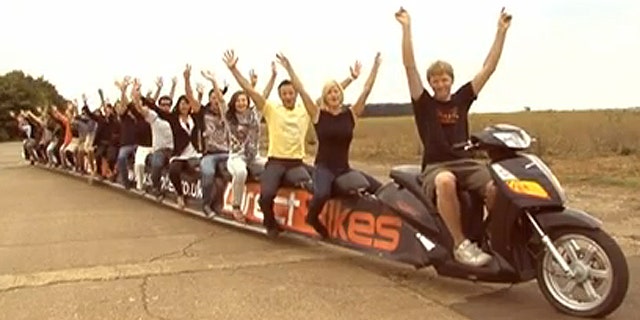 Is your motorcycle gang feeling the pinch of high fuel prices? Well, a British plumber may have just the thing for you.
Colin Furze of Lincolnshire, England has created a 72-foot long scooter that he believes is the longest motorcycle in the world, and has asked the Guinness Book of World Records to verify the claim. The existing record stands at a mere 46 feet.
Built in partnership with an online motor scooter retailer, Furze connected the front and rear ends of two 125cc scooters with an aluminum frame and added enough seating for least 25 people.
According to the Daily Mail, Furze has driven his creation over one mile at speeds up to 35 mph, even though the record only requires a 100-meter run. No passengers were on board, or required to be for the record, but with a few modifications, he thinks it would be possible to load it up.
'When I first got on it I thought it would never work and at a slow speed it's almost impossible to keep upright," he told the news outlet. 'But once you get going it becomes a bit easier, although it is a real strain on your arms as it has such heavy steering.
Furze has submitted a video of his run and signed statements from witnesses to Guinness and is waiting to hear if his record is accepted. The organization is already familiar with him, as he is the current holder of the record and also holds one for world's fastest mobility scooter at 69 mph.
Click here for more from Fox Car Report