Bride rides to wedding in rented Rolls-Royce once owned by long-lost uncle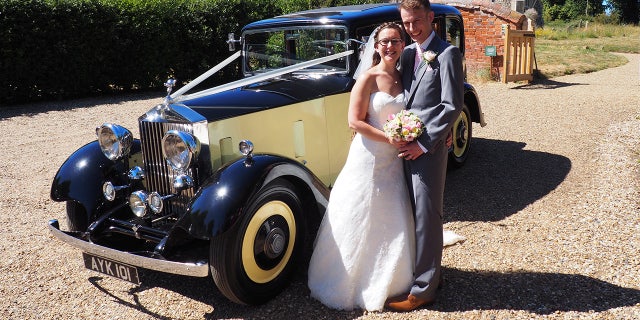 A bride arrived at church in a vintage Rolls-Royce that belonged to a long-lost relative - after discovering it while researching her family history.
Eliose Britcher, 31, stumbled upon a mention of the classic car while reading up on her great-great uncle Alfred Shread.
The wealthy fruit and veg wholesaler had bought the car in 1934, before it passed into the hands of a former spitfire pilot.
But it was when Eloise was searching for information about her ancestor that she found the motor for hire by a wedding car company.
From that moment, she and 31-year-old fiancé Joseph Leney knew that they wanted it to get her to the church on time on their big day.
Roger, Eloise's father, said: "It's hard to put into words but obviously as a father people always say to you it's a special moment, and it is.
"It absolutely pins you to the wall. When you chuck in such a beautiful car that's part of our family history, it's absolutely incredible.
The 60-year-old added: "It was just lovely fun and it made your heart sing."
Mr Shread bought the 1934 Rolls-Royce 20/25 limousine on April 4 of the same year for around £850 ($1,000) - roughly equivalent to £55,000 ($72,000) today.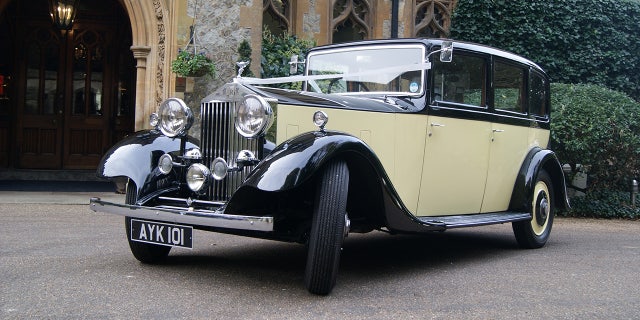 Shortly after he passed away, former RAF pilot Capt. Vincent Twomey bought it in 1958.
Mr Twomey had a particular fondness for the cars after the Rolls-Royce engine in his fighter plane kept him going long enough to bail out when he was shot down over Yugoslavia on D-Day, 1944.
After Twomey passed away himself in 1998, the car went to auction and was bought by Nick Woodward, who owns wedding car company Woodward cars.
He had put info on the car on his website, which was read by Eliose.
Mr Woodward usually only works in the Surrey area as the cars can't be driven long distances, but he made an exception for Eloise and Joseph, from Alpheton in Suffolk, U.K.
After the family had the Rolls-Royce carefully transported to the county, retired policeman Nick drove the father and bride to the church.
He said: "It was a huge thing for me having only met the family once before.
"The fact that Eloise had tracked it down researching the family history, it was very touching.
"It was an absolute honour to let Eloise sit in the same seat that her great-great uncle sat in to get to the wedding.
"As we drove the final part up to the church, we slowed right down and she said, 'I've been waiting for this for years'."