Beginner's guide to RV trailers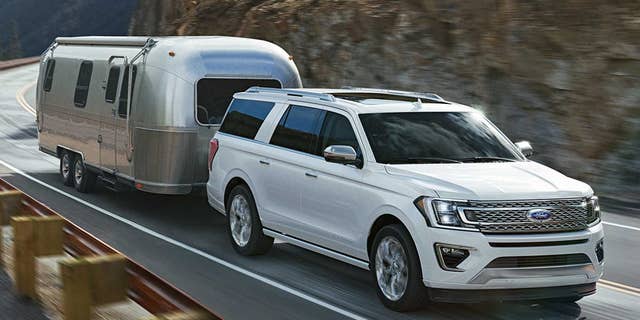 NEWYou can now listen to Fox News articles!
Consumer Reports has no financial relationship with advertisers on this site.
Towable RVs are the least expensive way to get into RVing. That's because they are propelled by the family SUV or truck, making them much cheaper and simpler to get started with than a motor home. They also come in a wide range of designs and sizes, providing something for every budget.
Because the trailer can be removed from the tow vehicle, the SUV or truck can be used year-round—rather than just serve as a vacation coach, like an all-in-one recreational vehicle. Plus, the tow vehicle will likely have modern safety features not readily available on an RV, including forward-collision warning, automatic emergency braking, blind-spot warning, and robust crash protection. Tow vehicles also provide the ability to safely travel with kids and their car seats, an option that is not readily available in motor homes.
Trailers offer a lot of flexibility when you get to the campground. You can unhitch the trailer and leave it behind, using the tow vehicle for exploring. This means you don't have to pack things away inside the camper and disconnect all the lines each time you want to go out, like you have to do when traveling with a motor home. And a tow vehicle will be a lot easier for local sightseeing, including navigating downtown roads, parking, and going through drive-thrus.
More From Consumer Reports
However, there is a price to be paid for that flexibility. Towing an RV trailer requires a new set of skills from merely driving a car. A lot of space is required to park a long tow vehicle and trailer combination. Learning how to reverse the trailer takes a lot of patience and practice. You also need to hitch and unhitch the trailer, carefully going through the steps to ensure a safe connection. Last, you need to own a vehicle that is capable of safely towing the trailer.
There are several different types of recreational trailers to consider, as outlined below:
Folding or Pop-Up Trailers
Sitting only about 4 feet high when towed, pop-up trailers are raised (by hand crank or electrically) when at the camp site. Most have tentlike sides, as well as extensions that pull out of either end. Some brands, like Aliner and TrailManor, have hard sides, providing more durability and insulation.
How long are they: 8 to 20 feet
How much do they weigh: 1,000 to 4,000 pounds
How many can they sleep: From two to eight
How much do they cost: $10,000 to $30,000
Pros:
Least expensive type of trailer.
Can be very lightweight; the smallest ones can be towed by most cars.
Low aerodynamic profile helps fuel economy.
Pull-out end extensions, which are typically beds, create large sleeping spaces for what is a relatively short trailer.
Some hard-sided models can be put up very quickly.
Cons:
Often lack the luxuries of larger trailers, like an enclosed bathroom (or any bathroom at all).
Not much insulation from noise or cold.
Stopping for a quick camp-style lunch while on the road requires raising up the trailer to gain access.
Tent-sided models need more maintenance, and fabric requires eventual replacement.
Tent-sided models are prohibited in some campgrounds due to danger from bears.
Travel Trailers
Travel trailers are the most popular—and most varied—type of towable RV. They have solid walls and often feature a slide—a section of wall that pulls or motors out to provide more interior width when camping.
Travel trailers come in a wide variety of sizes and designs:
Small retro-inspired "teardrop" trailers are essentially a tent and bed on wheels.
Small molded fiberglass trailers like the Casita and Scamp have passionate fan bases for their low-maintenance designs.
Midpriced trailers from companies like Forest River, Gulfstream, and Jayco offer a lot of space and features for the money.
The iconic Airstream has a distinctive aluminium body. Aerodynamic and low to the ground, these are easy to tow but are expensive for their size.
Smaller trailers have a single axle; larger trailers can have two (or even three). More axles increase towing stability and let you limp the trailer to safety in case of a single flat tire, but they also add to tire replacement costs.
How long are they: 8 to 40 feet
How much do they weigh: 1,000 to 10,000 pounds
How many can they sleep: From two to eight
How much do they cost: $10,000 to $150,000
Pros:
Rigid walls provide some insulation from cold and noise, compared with a pop-up trailer or tent.
Very little setup time.
Come in a wide variety of lengths and weights.
Cons:
Need a suitable tow vehicle.
Towing requires learning (and practicing) some different driving skills.
Larger trailers won't fit into small campsites.
Hybrid or Expandable Trailers
Hybrid or expandable RV trailers increase sleeping space without the downsides—the added length and weight—forced by getting a bigger trailer. They do that by combining the hard-sided body of a conventional travel trailer with the pull-out end extensions typically found on a folding trailer. This design can let you use a smaller tow vehicle while still providing enough sleeping space and amenities for your family.
How long are they: 8 to 26 feet
How much do they weigh: 2,500 to 5,500 pounds
How many can they sleep: Four to eight
How much do they cost: $10,000 to $40,000
Pros:
Extra sleeping space without added length and weight.
Cons:
Takes more setup time than a typical travel trailer.
Need to maintain tent-sided material, and fabric may need eventual replacement.
Not as quiet in noisy campgrounds as fully hard-sided trailers.
Fifth-Wheel Trailers
Fifth-wheel trailers are designed to be towed by pickup trucks. Their front extends over a pickup bed and has a hitch beneath the forward sleeping quarters that slides into place in the bed. Because that front portion overlaps the truck, it reduces the overall length of the truck and trailer combination, given the amount of trailer living space.
Fifth-wheel trailers are generally large and heavy, requiring at least a half-ton truck that is equipped from the factory to maximize its payload. A handful of manufacturers, like Escape fiberglass trailers, make smaller fifth-wheels that can be easily towed by smaller trucks.

How long are they: 20 to 40 feet
How much do they weigh: Typically 7,000 pounds and up, excluding a few small models
How many can they sleep: Four to eight
How much do they cost: $20,000 to $150,000
Pros:
Provide more living space for their given towing length.
Fifth-wheel hitches tend to be very stable for towing.
Typically has a dedicated bedroom in front.
Cons:
Often needs a heavy-duty truck.
Tall height means might not fit under some bridges.
Limited use of truck bed when towing.
Not many truly small fifth-wheel trailers are available; "lightweight" ones typically weigh at least 7,000 pounds.
Toy Haulers or 'Sport-Utility Trailers'
Toy haulers or "sport-utility trailers" can come in any travel trailer type. Typically they have an enclosed garage in back of them, designed for carrying motorcycles, ATVs, or other outdoor playthings. A ramp lowers off the back of the trailer, letting you drive these out of the trailer. The ramp itself can often be used as a porch once the toy is unloaded.
How long are they: 18 to 40 feet
How much do they weigh: 3,000 to 10,000 pounds
How many can they sleep: Four to eight
How much do they cost: $10,000 to $150,000
Pros:
Lots of storage space.
Gives garage space to keep things dry or store tools.
Cons:
Shrinks available living space.
Putting heavy ATVs or motorcycles at rear can impair trailer balance and handling.
Truck Campers
Truck campers slide into the back of a pickup truck's bed—no towing needed. Often they project overtop the truck's cab to increase living space. Lightweight "expedition-style" models typically have tentlike fabric sides, popping up to add headroom.
Having enough truck payload is key for truck camper owners. Though some pop-top lightweight models fit into smaller trucks, the typical hard-sided truck camper is too heavy for a half-ton truck, unless that truck is very carefully optioned to maximize payload. Most owners tend to use heavy-duty trucks.
How long are they: 6 to 12 feet
How much do they weigh: 1,000 to 3,000 pounds
How many can they sleep: Two to four
How much do they cost: $15,000 to $40,000
Pros:
Compact and easy to drive; not much bigger than the truck itself.
Allows for off-roading adventures.
Some specialty models fit in midsized trucks, like the Toyota Tacoma.
Cons:
Not much living space.
High climb to get in.
Typical hard-sided truck campers require a heavy-duty truck.
Something of a hassle to install and remove from truck.
Often expensive for their size.
Bottom Line
No matter what recreational trailer or RV you buy, take your time. A common adage in the hobby is to "buy your third trailer first," because many people who stick with the hobby go through two or three RVs before they find the right fit. You can accelerate that process (and thus save grief and money) by renting an RV before buying. That helps you sort out what kind of floor plan and what features are important for your particular type of camping and your family.
Consumer Reports is an independent, nonprofit organization that works side by side with consumers to create a fairer, safer, and healthier world. CR does not endorse products or services, and does not accept advertising. Copyright © 2018, Consumer Reports, Inc.