Audi A8's 2019 model has self-adjusting wheels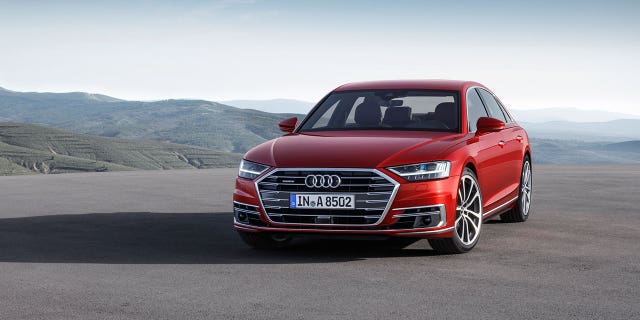 It's expected that a pilot can lower and raise a jet's landing gear. For a driver to have that control over his car's wheels is something entirely different.
2018 HONDA ACCORD OFFERS MORE GEARS, MORE SPACE
The active suspension on the 2019 Audi A8 does just that. When cameras and sensors spot a potential bump in the road, the A8 activates electric motors and gears that can raise or lower individual wheels in the blink of an eye prior to impact. The result, according to Audi, is a more controlled and calmer ride than possible with current adaptive suspensions that are far more limited in movement. It can even sense an impending side-impact collision and raise part of the car by 3.1 inches to better distribute the crash forces into the body — instead of yours.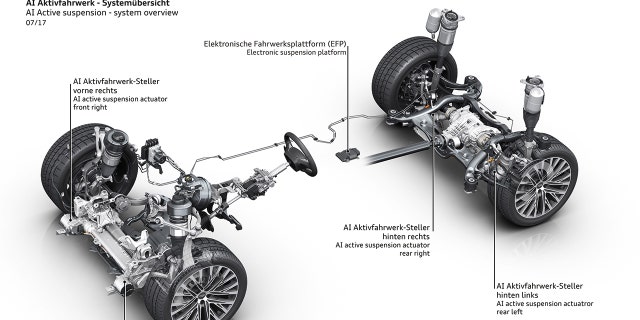 That's only part of the electronic wizardry Audi packed into its all-new large sedan, its flagship model that competes with the Mercedes-Benz S-class and BMW 7-series. A large secondary touchscreen integrates climate, handwriting and keyboard inputs into the lower portion of the dashboard. Traffic Jam Pilot uses an industry-first laser scanner that can help drive the A8 completely hands-free up to 37 mph, and in Germany at least, Audi says it will absorb liability for any crash suffered while the system is in use.
Like the suspension, the LED headlights can scan the road ahead and brighten or darken specific areas of the road. For example, it may shade a pedestrian's face but highlight only her torso so she's not dazzled by an oncoming car.
There's also a good, old-fashioned foot massager for rear passengers who wouldn't even think of touching the steering wheel.
Until Audi releases final U.S. specifications, the automaker will offer the A8 with a 4.0-liter twin-turbocharged V-8 good for 460 horsepower. A plug-in hybrid and smaller six-cylinder engines may be available later.
FOLLOW US ON FACEBOOK FOR MORE FOX LIFESTYLE NEWS
Expect a heavy list of options and swelling prices when the next A8 debuts on American soil sometime next year.