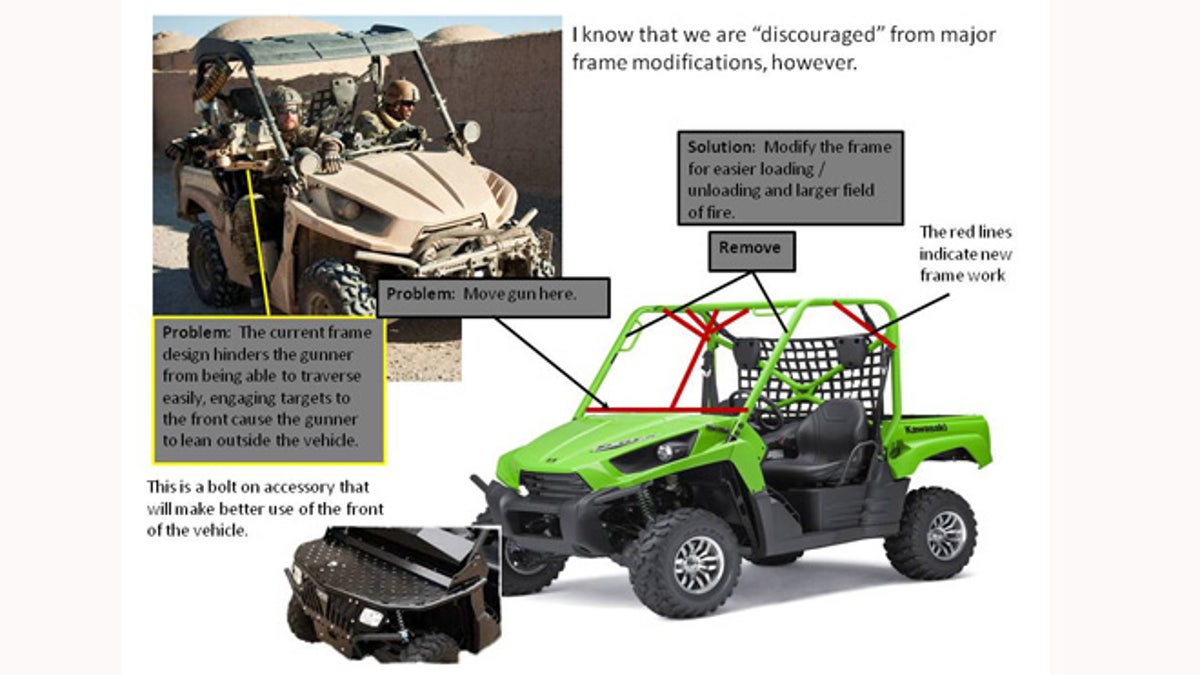 Soldiers on the front lines are now in the driver's seat.
The U.S. Army's Rapid Equipping Force (REF) has launched a digital forum where practically anyone in the service is able to submit ideas for new equipment that can quickly become a reality in the field.
And you can help out, too.
Army CoCreate is an online platform developed in partnership with Local Motors, the Arizona company that pioneered the idea of crowdsourced automotive design with its innovative Rally Fighter off-road sports truck.
Read: U.S. Military begins rolling on airless tires
Through it, servicemen and women literally anywhere in the world, as well as civilians for non-classified projects, can log on and suggest anything from small tweaks for existing equipment that can be implemented on location to radical designs for future fighting machines. Other members of the site then vote for the best submissions and can add their own modifications, which are also vetted by the community, the best being added to the overall design.
The REF's mission is to use off-the-shelf parts to quickly improve gear to better fit the missions of the day, and do so at a reduced cost compared to developing new equipment from scratch. Up until now it has gathered information from liaison officers in the field, a layer Army CoCreate basically bypasses to further increase the volume of ideas and speed at which they make t back to HQ.
The first fruit of the project is an all-terrain vehicle outfitted as a Mobile Command Post (Mobile CP) that can support a company-size unit in combat situations. The basic idea was sussed out in just over a month since Army CoCreate went live on October 15th, and a prototype could be ready to test by mid-January.
Designed around the Kawasaki Teryx 750cc ATV already in use by the Army, the Mobile CP is small enough to be airlifted into just about any theater, but designed to carry enough communications equipment and batteries to silently power it for more than eight hours while being future-proofed for fully-autonomous operation when that type of technology becomes available.
The project is still open to additional submissions before the REF holds the first of two weeklong Make-a-Thons at its Maneuver Center of Excellence at Fort Benning, Ga., on Dec. 9, where the team will employ rapid prototyping methods to bring the vehicle to life.
Although the Mobile CP is serving as a proof of concept for Army CoCreate, the resulting vehicle could be speeding into service soon.