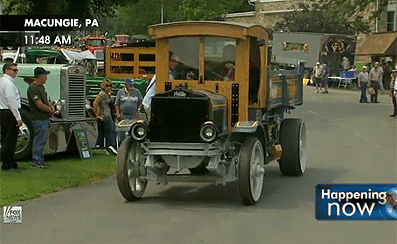 The 32nd annual Antique Truck Club of America show is under way in Macungie, Pa., with more than 10,000 truck enthusiasts from all over the world expected to marvel at the magnificent antique commercial vehicles on display throughout the weekend.
"This is the greatest antique truck show in the world," club director Doug Maney boasted. "We have everything that a truck enthusiast would want, variations of models and years of trucks. We also have a big swap meet where truck lovers can find anything they want for their restoration projects, but what it all comes down to is the people."
This year, there will be over 600 trucks of all shapes and sizes showcased, from big rigs to dump trucks, classic models to milk carriers.
If you can think of a type of antique truck, it's probably here at Macungie Memorial Park.
"This show is such a big draw because of the camaraderie, the common interests in the trucks and trucking history," Maney told Fox News. "The affection you get from this hobby of collecting, restoring and admiring trucks gets in your blood. We like to say, diesel fuel runs through our blood, and trucking thread runs up your spine. It's what ties us all together."
Sherry Stoner of Rexmont, Pa., agrees. She says she has been bringing her two young sons here to carry on a family tradition of admiring trucks.
"We come here because the trucks are so cool, and you can stand around and talk about trucks," Stoner said. "The boys love it and love to look at the smoke coming out of the stacks to hear the air horns and to talk on the CB radios. It's all good family stuff."
Dennis Meehan has been coming to this truck show for the last 28 years and is currently showcasing his 1959 modified Mack fire vehicle that he turned into a pickup truck. He said the reason he keeps coming back is simple.
"To preserve the vehicles that built America so future generations can see how these vehicles were used in building roads and bridges, tunnels and also used in all of our wars," he said. "That's what it's all about."
To learn more about the Antique Truck Club of America and the 32nd annual truck show, go to the group's website: http://www.antiquetruckclubofamerica.org