2018 Honda Accord offers more gears, more space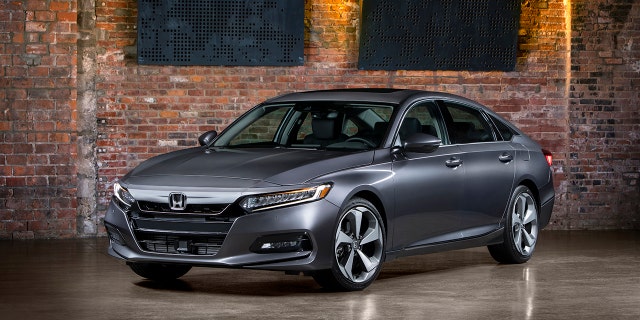 Honda's top-selling family car is completely redone for 2018 and promises greater efficiency and comfort, though some long-time customers might notice something big missing.
That would be the Accord's 3.5-liter V-6 engine, a powerful choice on upper trim levels that snarls and delivers snappy acceleration. In its place is a 2.0-liter turbocharged four-cylinder engine making 252 horsepower and paired with a Honda-designed 10-speed automatic, the first of its kind in a front-wheel drive car. Honda claims the new engine's greater torque, the transmission's improved gearing, and a stiffer chassis — that's up to 176 pounds lighter — will translate to impressive performance, although we're going to miss that sweet six.
2017 HONDA CIVIC TYPE-R SETS NURBURGRING LAP RECORD
Lesser Accord models use a 1.5-liter turbocharged four-cylinder with 192 horsepower that handily outguns the former 2.4-liter naturally-aspirated engine. This engine is paired with a continuously variable transmission or, on Sport trims, Honda's slick-shifting six-speed manual. It's rare to see a family sedan offer a row-your-own gearbox. The coupe, however, will not return for 2018.
Inside, the 2018 Accord expands its already spacious legroom by 2.5 inches and increases trunk space by one cubic foot to 16.7. The body itself has a two-inch longer wheelbase but hardly changes in length. It's also slightly wider and lower, and the driver's seating position drops an inch for a sportier feel. Overall, the new Accord looks much like the previous Accord, but with a larger, more upright grille and optional LED headlights, it's a bit more aggressive than before.
Honda has tech covered, too. In-car 4G LTE Wi-Fi, wireless updates for the infotainment system, telematics services such as stolen vehicle tracking, Apple CarPlay, Android Auto, larger screens, and a head-up display are all available. The Honda Sensing suite of driver assists, which include automatic braking and lane departure warning, is standard on every Accord. Physical comforts like cooled front seats and an adaptive suspension will be welcome on those longer rides.
Pricing and fuel economy estimates — including specifications for the hybrid model — will be released closer to the Accord's launch later in the year.