2018 Ford F-150 first drive: What you need to know
Ford took a big gamble three years ago when it introduced its all-aluminum F-150 and it paid off…bigly.
The automaker's engineers, dealers and loyal customer base all came through, and sales have been going up ever since production of the next-gen pickup ramped up to full steam.
Nevertheless, the full-size pickup segment remains highly competitive and Ford isn't ready to rest on its lightweight laurels, so it updated the F-150 for 2018.
It's far from a new vehicle, but is a significant refresh that I had the opportunity to check out in lovely Dexter, Mich., before it goes on sale nationwide. Here's the most important stuff you need to know:
Sometimes cosmetic surgery is good
The most obvious change is the F-150's new grille and headlamps, which ape the look of the latest F-Series Super Duty's. There are actually several different grills across the lineup, with all but one featuring twin horizontal bars that appear to be held in place by the 'C-clamp' style lights. An all-mesh version appears on a sporty STX trim package that's available on the entry-level F-150 XL. I think the new grille looks better than the oversized, radiator-style one that debuted in 2015, and clearly so do a lot of people at Ford or they wouldn't have changed it. (The high performance F-150 Raptor retains its 2017 design.)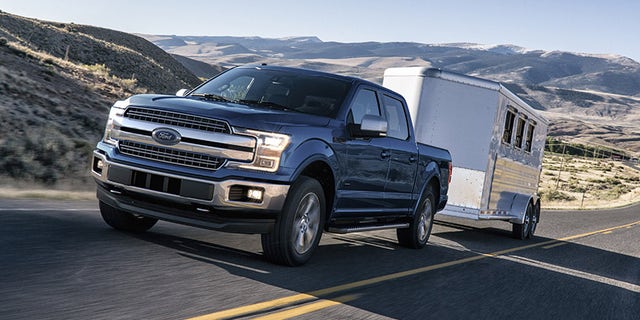 It has stronger bones
The F-150 equipped with its 375 hp 3.5-liter twin-turbocharged V6 and max trailering package can now tow 13,200 pounds. That's a 1,000 pound increase over 2017 and 700 pounds more than the top Chevrolet Silverado 1500 can manage. It'll even beat a bunch of F-Series Super Duty configurations. The extra strength can be chalked up largely to a thicker-gauge steel frame that comes with the package, but there are also suspension modifications and a reengineered steering system to help you handle the extra weight on the move.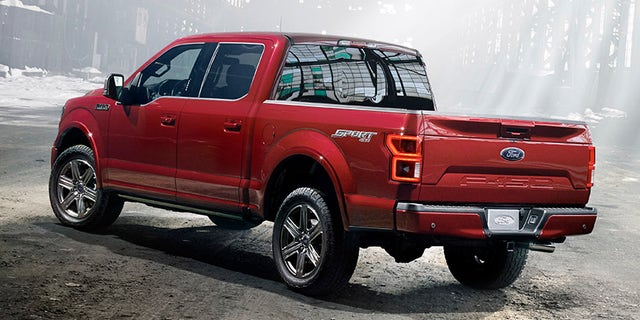 More from less
The F-150 has a selection of four new or updated engines, and they're all more potent and fuel efficient than the ones they replace. The 3.5-liter turbo V6 received its power boost last year and was paired to a 10-speed automatic transmission that now trickles down to the 5.0-liter V8 and 2.7-liter turbocharged V6, each getting 1-2 mpg better fuel economy out of the deal.
The 5.0-liter remains the F-150 and segment payload champ at a maximum of 3,270 pounds, but will have an easier time carrying the load with 10 more horsepower and 13 additional pound-feet of torque for a total of 395 hp and 400 lb-ft. A new fuel injection system and spray-in bore liner tech borrowed from the Mustang Shelby GT350's engine contribute to the added oomph.
Entry-level buyers aren't forgotten, either. They get an all-new 290 hp 3.3-liter V6 that is more powerful than the old 3.5 liter, and ties the 2.7-liter for class efficiency honors among gasoline-powered full-size pickups at 22 mpg combined, even though it is the only engine that still comes with a 6-speed transmission. (The first diesel F-150 is set for a Spring release and should be the mileage king.)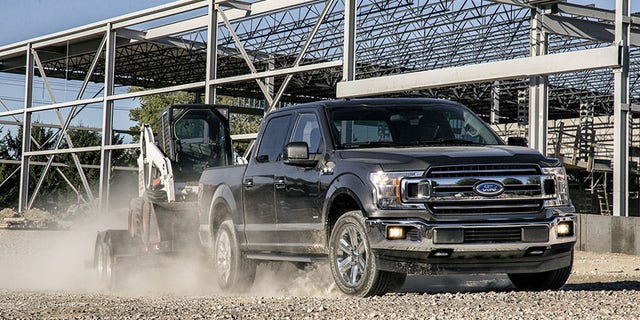 It can't drive itself, but…
There's a 360-degree camera system that's handy when parking, or squeezing through trees; a blind spot monitoring system that can be programmed to take the length of your trailer into account; Pro Trailer Backup Assist, which uses cameras and sensors to help you drive in reverse with a trailer attached by taking over all of the steering while you use a knob on the dashboard to simply point the truck where you want it to go; adaptive cruise control that will bring the truck to a stop in traffic then go again if you're not stationary for more than three seconds, even with a trailer attached; and a pedestrian detecting automatic emergency braking system. The only other full-size pickup offering that last one for 2018 is the Toyota Tundra.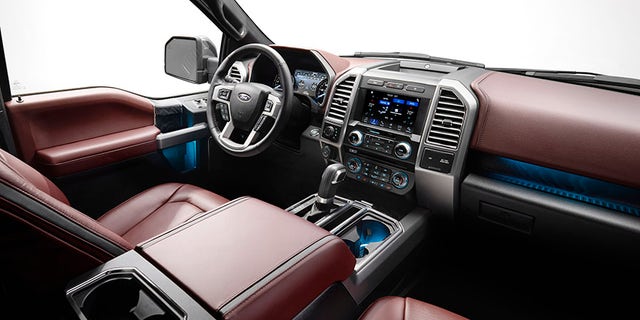 No surprises: It's better
Ford's engineers say the aluminum body has performed as expected, so there were no major structural alterations for 2018. They did make a pretty significant change to the suspension, however, by switching from twin-tube to monotube dampers, which deliver a better ride. On the road, and a short off-road course Ford set up for the launch, the new trucks felt to me like they were more polished, even before I knew about the new shocks. That was true whether they had empty beds, were carrying a half-ton payload or towing trailers that weighed several tons.
Aside from a couple of new trim colors, the interior of the F-150 remains the same, but you can now fill it with crystal clear sound from new 10-speaker B&O Play audio system, at least on high end models.
The most expensive of those can run well over $60,000, but the starting price for a good old fashioned stripped F-150 work truck is $28,675, which is less than three hundred bucks more than last year.
----------
Power:
3.3L V6: 290 hp, 265 lb-ft
2.7L V6: 325 hp, 400 lb-ft
5.0L V8: 395 hp, 400 lb-ft
3.5L V6: 375 hp, 470 lb-ft