2017 Kia Sportage SX Turbo Test Drive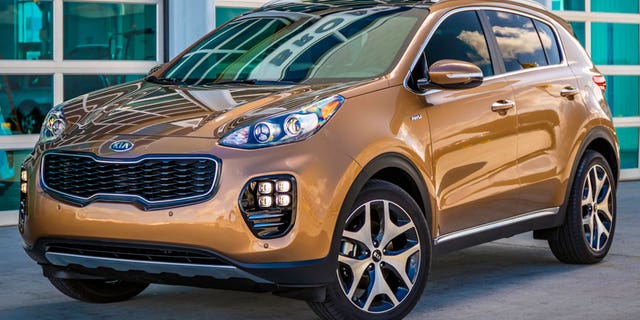 NEWYou can now listen to Fox News articles!
The Kia Sportage SX Turbo is heavier on the "sport" than the "portage," but overall it's an impressive entry in the compact crossover class.
If you want to haul, metaphorically speaking, this top-of-the-line model is a great way to do it in a CUV, as its 240 hp engine is one of the most powerful in its segment. Unfortunately, if you need to haul, literally, you might want to look elsewhere, because its cargo bay is pretty much the smallest around.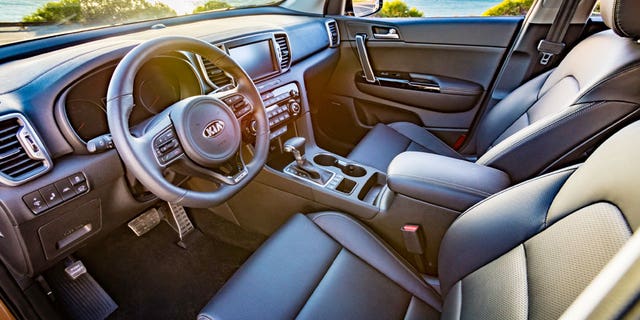 That's true in all Sportages, which start at $23,885 for a 181 hp version. But Kia did manage to fit a ton of features, all of them available in the lineup, in fact, into the SX Turbo for $33,395. The only decision you have to make is front-wheel-drive or all-wheel-drive. The latter is a $1,500 extra.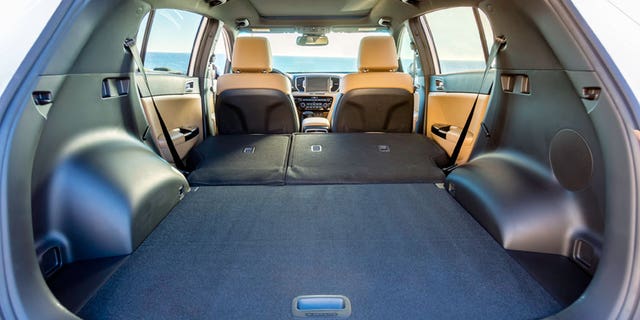 These include 18 lighting elements on the front of the car, giving the Sportage's already alien looks an insectoid vibe. Whether or not it's your thing, the design is well executed and a standout among its peers. By contrast, the cabin's style is reserved, classy and wouldn't look out of place in a luxury car. All of the materials are above par, and the comfortable, heated and cooled leather seats leave little to be desired. Kia often punches above its class with quality (it came in first in the 2016 J.D. Power Initial Quality Study), and the Sportage lives up to that reputation.
Despite, or likely because of, the little luggage area, there's plenty of space for passengers. It passes the four-6-footer test with room to spare. If the high beltline and small rear windows make them feel claustrophobic, there's a panoramic sunroof to balance things out.
Keep it closed, and the Sportage is an extremely quiet car. Its ride quality is similarly refined, even on its big 19-inch wheels. There is a fair amount of body motion, which gives it a bit of the fun, trucky feel missing from many CUVs. But it's controlled, and the payoff is a suspension that soaks up the bumpiest roads.
For most Sportages, that will mean old pavement and potholes. It's not an off-roader, though it can be locked in all-wheel-drive at low speeds for the occasional run across a grassy field or up a snowy driveway. For the street, the SX Turbo is fitted with lane departure and blind spot warning systems and pedestrian-spotting automatic emergency brakes.
It also has a hands-free hatchback. Just stand next to it for a couple of seconds with the key fob in your pocket and it opens, sesame-style. Too bad the cozy cavern it reveals is less awe-inspiring.
With all-wheel-drive, the SX Turbo is good for just 21 mpg combined. The 245 hp 2.0-liter turbo Ford Escape gets 23 mpg, while the 250 hp 2.0-liter turbo Subaru Forester does even better at 25 mpg.
That's a significant difference, but taken as a whole, the Sportage holds its own among these hot rods of the compact crossover class, and lives up to its name.
At least the first part of it.
----------
2017 Kia Sportage SX Turbo
Base price: $33,395.
As tested: $34,895
Type: 5-passenger, 4-door crossover
Engine: 2.0L turbocharged 4-cylinder
Power: 240 hp, 260 lb-ft torque
Transmission: 6-speed automatic