2017 GMC Acadia Test Drive
The GMC Acadia used to be an elephant. Now it never forgets.
For its second generation, GMC has taken its behemoth crossover down a full size, in an effort to chase customers in an even hotter segment. Apparently, the 96,393 it sold last year weren't enough for the accountants.
The shrinkage also means the Acadia fits better in the combined GMC-Buick lineup, where it now slots in below the Enclave, which was previously pretty much the same car, just dressed better. A new one of those is on the way next year, too.
The rebooted Acadia is only relatively small, however. It's available with three rows of seating for up to seven passengers, and is longer than a Toyota Highlander.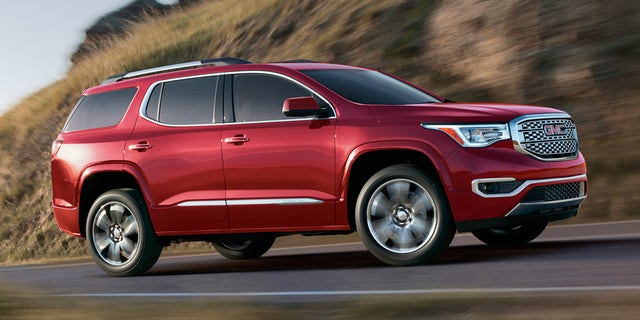 Prices start at $29,995 for a front-wheel-drive Acadia with a four-cylinder engine, but GMC expects most buyers will make the leap to one of the six-cylinder models that start at $35,995.
They come with a six-speed transmission and a new 310 horsepower 3.6-liter V6. That's 29 more horses than the old Acadia had, but it feels like a bigger boost because the new one weighs about 700 less. A better than 15 percent improvement in fuel economy (21 mpg combined for FWD versions, 20 mpg with AWD) is a bonus.
The top-of-the-line Acadia Denali starts at $46,240 and goes for $52,285 loaded to the max, like our test car. That gets you dual sunroofs, navigation, adaptive cruise control, automatic emergency brakes and a 360-degree camera system that can help you line up a trailer that can weigh up to 4,000 pounds, a drop from the last Acadia's maximum 5,200-pound rating.
Along with being smaller, its cabin isn't any more dazzling than before and it has more low-grade plastic, with the gaps that go with it, than it should at the Denali's price. But it is as quiet as a vehicle like this has a right to be. The first two rows are NBA-grade roomy, while the third might do for a couple of high school guards, but maybe not the forwards, and there's space for only a couple of gym bags behind it.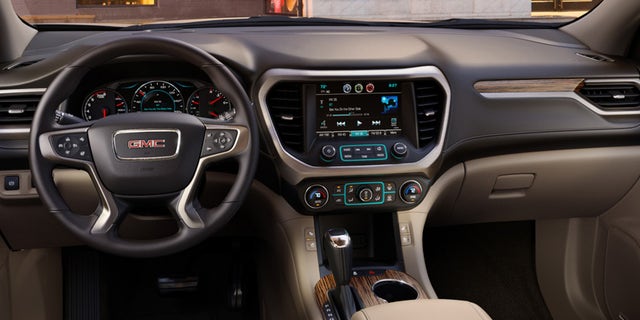 The Denali and SLT-2 trim levesl can also be had with $1,200 optional active suspension system with several stiffness settings that continuously ajusts to the road surface. Despite having a Sport mode, indicated by a checkered flag, it doesn't make the Acadia fun to drive, but it does deliver an outstanding ride. It's worth it.
(An earlier version of this article incorrectly described this feature as GM's Magnetic Ride Control system)
The Acadia is the only vehicle in its class that offers anything like it, and it's the kind of fantastic feature that alone has the potential to sway shoppers. But there's one more in all Acadias that could do the same.
The Acadia is the first vehicle to offer GM's new Rear Seat Reminder, which is a simple, but potentially life-saving, technology. Basically, if you open one of the rear doors before you start a trip, the car beeps and a message pops up on the instrument cluster when you turn off the ignition at the end of it, urging you to check the rear seats in case you left a bag or groceries or, I don't know, your first-born child back there.
It happens, and more often than it should. Nearly 40 kids die annually after being left in hot cars, and many more suffer from the effects of heatstroke. Pets, too. Federal legislation has recently been introduced to mandate this sort of feature on all passenger cars. Since there's really not much to the tech, don't be surprised if the regulation comes to pass. In the meantime, GM is already planning to add Rear Seat Reminder to other models.
Over the course of a week, I found it to be effective, but I had it very much in mind. It's very possible that it might blend into the background after some time, like that check engine light in your car that's been lit for the past three years.
Unfortunately, if you've owned an Acadia for that long and still need the room for the eight passengers it provides, the new one won't do. But if you act fast, you're in luck!
Your dealer hasn't completely forgotten about you. It will be selling the outgoing model for one more year as the Acadia Limited. After that, it'll be happy to show you a supersize Yukon XL, or maybe one of those new Buicks.
It's all about taking care of the family, after all.
----------
2017 GMC Acadia Denali
Base price: $46,240
As tested: $52,285
Type: All-wheel-drive, 4-door, 6-passenger crossover
Engine: 3.6-liter V6
Power: 310 hp, 271 lb-ft torque
Transmission: 6-speed automatic
MPG: 18 city/25 hwy