2017 Ford F-Series Super Duty is torque and towing king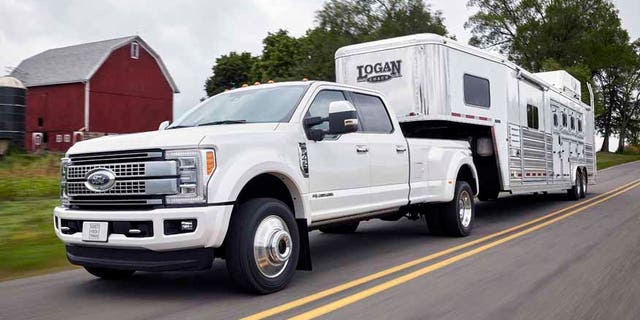 Ford's new 2017 Super Duty lineup looks like it will live up to its name.
The all-new F-250, F-350 and F-450 trucks will be offered with the most powerful pickup engine available when they go on sale this fall.
The automaker has revealed that the updated 6.7-liter Power Stroke turbo diesel is rated at 440 hp and 925 lb-ft of torque, besting Ram's current Cummins diesel by 30 hp and 25 lb-ft.
Ford says it was able to crank up the engine's torque thanks in part to the truck's aluminum body, by trading the weight saved there for beefed-up driveline components and a stronger, mostly high-strength steel frame.
The result is a maximum gooseneck trailer rating of 32,500 pounds for the F-450 SuperCrew 4x4, which can also pull a 21,000-pound conventional trailer, and an F-350 with a payload rating of 7,630 pounds.
And Ford didn't forget about its gas guzzling customers. The 385 hp 6.2-liter gasoline V8 is also getting a torque boost from 405 to 430 lb-ft.