2017 Ford F-150 Raptor power revealed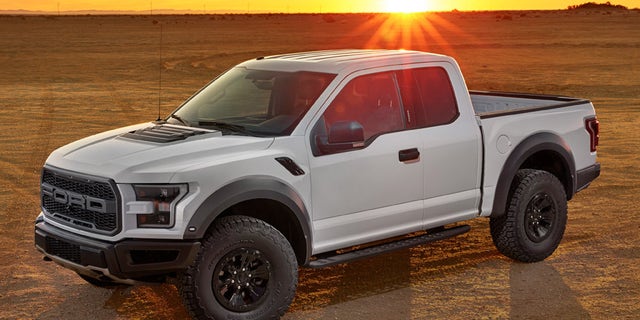 NEWYou can now listen to Fox News articles!
The F-150 Raptor is dropping pounds and adding power, making it all the better to jump with.
Ford has confirmed that its Baja-blasting high performance pickup will be packing 450 horsepower and 510 pound-feet of torque under its bulging, vented hood when it hits showrooms and desert arroyos later this year.
It comes courtesy of a custom version of the 2017 F-150s new 3.5-liter twin-turbo V6 that has its own set of turbochargers, oil-cooled pistons and dual exhausts, among other upgrades added by the automaker's Ford Performance division. The output is a big leap from the old V8 Raptor's 411 hp and 434 lb-ft, and is accompanied by a 500 pound weight reduction for the new aluminum-bodied truck.
Fuel economy, never a Raptor strong point thanks in part to its huge tires and lofty ground clearance, also increases from an EPA-rated 13 mpg to 16 mpg combined. A new 10-speed automatic transmission helps here.
The transmission and 4x4 system have six driving modes that cover everything from normal street driving to rock crawling, mudding and the aptly-named Baja, which is tuned for high speed runs through the dester. Three-inch Fox Racing Shox with 13 inches of travel in front and a 13.9 inches at the rear turn it into the closest thing you can get to a factory trophy truck.
Prices will start at $49,520 when the Raptor goes on sale later this year.
----------
Secrets of the Ford Focus RS: