2016 MINI Cooper Clubman Test Drive
MINI may need to lose the all caps and add an asterisk to its name.
The all-new 2016 Cooper Clubman is the largest car the company has ever made. It's enormous; a legit compact, hold the sub-. Nearly a foot and a half longer than the smallest MINI, it's like a little limousine.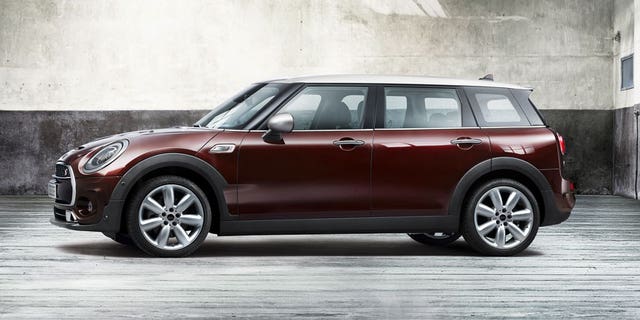 That description isn't much of a stretch, because the Clubman is built on a longer, wider version of the latest MINI Hardtop's platform, itself now available in four-door form.
The Clubman beats it on that count, too, as it has six doors. There are four for passengers, and, instead of a liftback, its hatch is accessed through side-opening split doors, just like a massive cargo van. They open into 17.5 cubic feet of cargo room, more even than MINI's "SUV," the Countryman, can offer.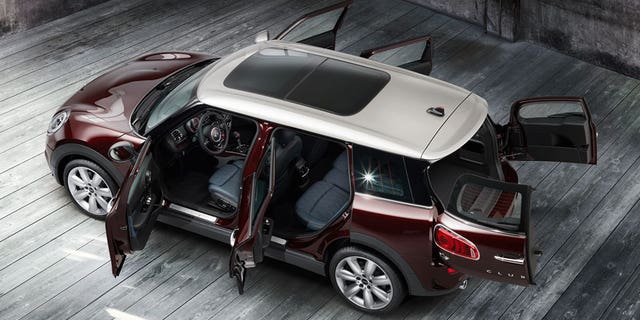 Just don't park to close to the car behind, they do swing out wide. I should say, don't let the car park itself. If you check the right options box, it can do that, in case you aren't confident in your ability to pilot such a leviathan into a space.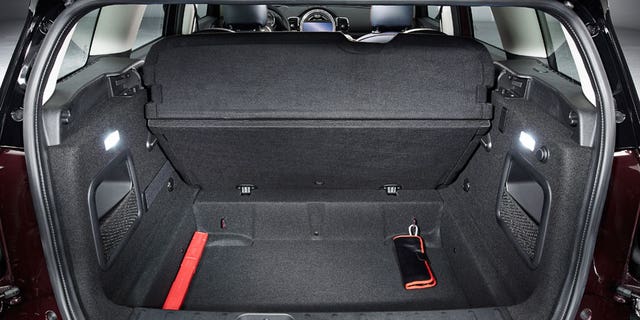 There's room inside for four tall folks, five if they're friendly, but the rear seat bottoms are almost as hard as a park bench, despite their natty tweed upholstery (Leather is an option, but not a softer one.) You won't want to sit there for very long, which may be why there aren't any cupholders, just two bottle slots in the doors. No open coffee cups, please.
Up front, things are perfect. There are deep, sporty seats and a refined, not-too-cheeky version of MINIs signature interior design style, which still features a lot of toggle switches and circular elements. The large one in the center houses an infotainment system that's operated by a knob fitted with a touchpad that allows you to write the names of destinations with your finger. And there's a voice recorder, in case you get any bright ideas on the road.
Like a three-cylinder engine, perhaps? The Clubman is powered by a 1.5-liter turbocharged triple shared with the lighter Hardtop, so it isn't the quickest car in the company's lineup. But its smooth 134 hp and 162 lb-ft of turbo torque shouldn't have you longing for any more pistons. Nevertheless, you can step up to the Cooper S Clubman and its 189 hp turbo four-cylinder, if you are.
The Clubman I tested was front-wheel-drive with a six-speed manual transmission, but an 8-speed automatic is available, as is all-wheel-drive. The stick is crisp, and will blip the throttle on downshifts to keep you from lurching along.
You can turn the feature off, but you lose the stability control with it. Something you'd do before hitting a track or an autocross, perhaps. This isn't really that kind of MINI, though. Case in point: It has an electronic parking brake, so no handbrake turns, either. Tragic.
Or not. It's very nimble, and entertaining to drive on a twisty road. The suspension handles bumps and curves with equal skill, and that extra-long wheelbase adds stability. All told, the Clubman has a near-luxurious ride. That's good, because with a starting price of $24,950, it's a premium machine for its size.
I'd peg its closest cross-shop to be the four-door Volkswagen Golf GTI; a slightly larger, much more powerful, fun to drive compact that's one of the best cars in the world, but a little short on character.
MINIs have plenty of that, even ones like this that don't quite live up to the name.
----------
2016 MINI Cooper Clubman
Base price: $24,950
As tested: $30,750
Type: 4-door, 5-passenger front-wheel-drive hatchback
Engine: 1.5-liter turbocharged 3-cylinder
Power: 134 hp, 162 lb-ft torque
Transmission: 6-speed automatic
MPG: 25 city/35 hwy