2016 McLaren 570S Test Drive
The 570S is a super car. But it's not a supercar, technically speaking.
Nope, the new mid-engine coupe is part of McLaren's new Sports series, slotting into the British automaker's lineup under the Super series, which sits below the Ultimate series and, well, Formula One.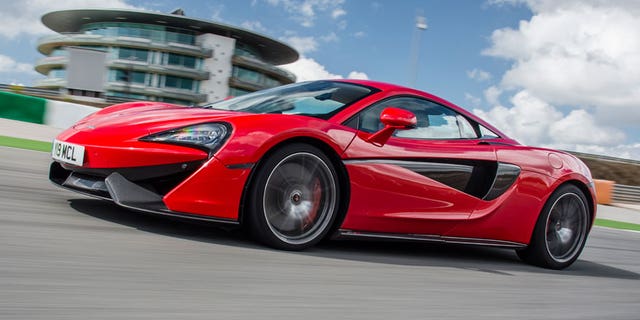 It's aimed at folks with $187,400 lying around who prefer driving their thoroughbreds often, rather than leaving them in the barn to rot between weekend runs, or until they ripen into collectibles. In other words: just a run-of-the-mill daily driver, nothing special.
Yeah, right.
Try telling that to the 3-year-old boy riding his scooter down a Manhattan street, apparently on his way home from central casting, who stops in his tracks and starts jumping up and down, smiling, pointing at the 570S in amazement as I drive by. Status, labels and semantics mean nothing to him. The alien-looking McLaren is just a really super thing.
I agree.
The 570S is loaded with technology that's trickled down from McLaren's much more expensive offerings, like the 650S and million-dollar P1. This includes a lightweight but strong carbon fiber passenger cell; a 562 hp 3.8-liter twin-turbocharged V8; and a seven-speed, twin-clutch automatic transmission.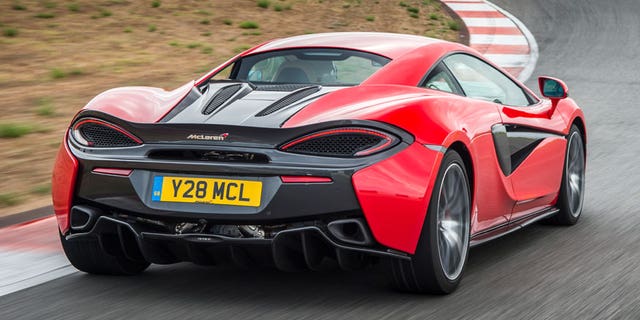 Cost savings were achieved by using aluminum instead of feathery carbon composite bodywork, but the 570S still weighs only about 3,000 pounds. That's less than anything like it, including its closest competitors: the Acura NSX, Audi R8, Lamborghini Huracan and the priciest Porsche 911s.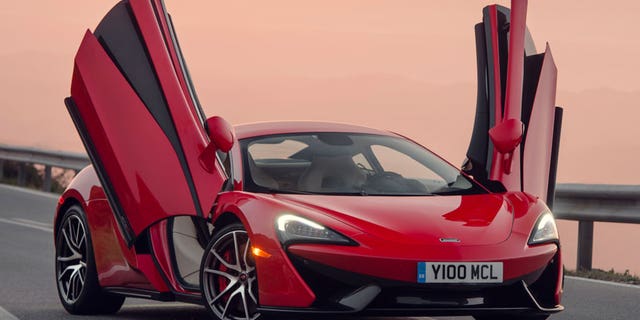 Unlike those, the 570S has doors that open the right way: up. And the opening is wider than this type of door usually allows, so you don't have to contort yourself too much as you head off to work in your business suit, despite the car's waist-high roof. There's plenty of room inside, cubbies hidden in the doors, a parcel shelf behind the headrests and even a high performance cup holder to grip your morning latte.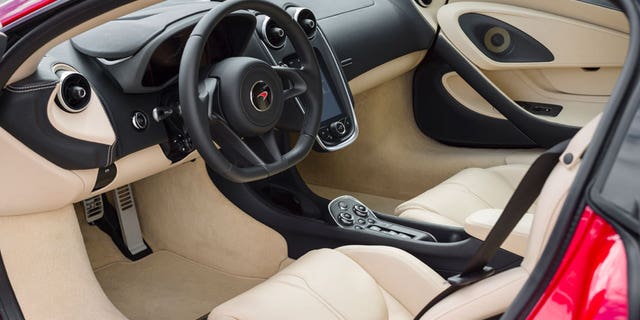 As with all McLarens, you sit closer to the center than in anything this side of an open-wheel racer, (or the 1992 McLaren F1, which literally had its driver's seat in the center), and the low dashboard, thin roof pillars, and enormous windshield provide a view that's nearly as good as if they weren't there at all.
The interior is dressier than a competition car's, but it's more athleisure than luxury. There's leather, Alcantara and carbon fiber, but the design is optimized around simplicity and lightness.
An adjustable suspension runs the gamut from firm to stiff, but no more so than anything else that offers this kind of performance. What kind? How about 0-62 mph in 3.2 seconds, 0-124 mph in 9.5 seconds, and a top speed of 204 mph?
An efficient launch control system preserves tire rubber while you're chasing those numbers by not allowing any discernible wheel spin as the torque builds with engine RPMs in a very turbocharged way. The soundtrack it plays with the loud pedal pressed to the floor is a glorious rock opera of basso exhaust, midrange induction and falsetto turbine sounds.
You've probably read lot about cars that feel like go-karts, but it's all lies. No street car truly does. But! The 570S comes close. The feedback you get through its hyper-responsive, hydraulic-assist steering is like a graduate-level course in road surfacing. On a bumpy city street, it jerks around in your hands so much that you quickly learn why many automakers dial in some numbness.
But take it out of town, or to a smooth track, and the way that wheel talks to the tarmac will ruin every other car for you, with no apologies. The precision it offers is nearly telepathic. And it has accomplices.
The 570S comes with standard carbon ceramic brakes that will stop you several dollars before the dime, and the rear ones can lightly squeeze the inside disc in curves to help pivot the car. McLaren calls it Brake Steer (well, duh), and unlike many torque vectoring systems, its operation is very apparent.
Note:
An earlier version of this story incorrectly described the Brake Steer operation.
Drive the 570S hard into a turn and you can feel the system pulling its nose toward the apex, like a pig hunting truffles buried there. The rest of the car obediently follows and rarely puts a hoof wrong. Most cars that you pay this much money for are exceptional, but the 570S is unique.
But that's not to say it's perfect.
For an "everyday" car, the form-fitting seats could use a little extra padding for long bouts of stop-and-go traffic; the infotainment system in my tester crashed a couple of times in a stereotypically British electronics way; and the small, 5.3-cubic-foot "frunk" under the hood would be challenged by a grocery run, let alone a shopping spree.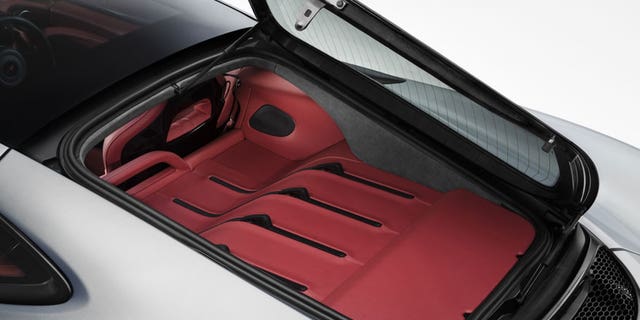 If that last one's a major issue for you, McLaren also offers a 570GT model that has a hatchback and 12-cubic-foot cargo bay installed over the engine, plus a slightly softer ride for long stints behind the wheel.
Sounds like a super idea to me.
----------
2016 McLaren 570S
Base price: $187,400
As tested: $229,100
Type: 2-passenger, 2-door coupe
Engine: 3.8-liter turbocharged V8
Transmission: 7-speed automatic
Power: 562 hp, 443 lb-ft
MPG: 16 city/23 highway