2016 GMC Canyon Diesel Test Drive
The GMC Canyon is a little truck, but now it can act like a big one.
The 2016 Canyon and its twin, the Chevrolet Colorado, are the only small pickups in the United States that you can get with a diesel engine, and the first since the 1980s.
The timing could be better. Gas is dirt cheap, so efficiency is on the back burner for many truck shoppers. Meanwhile, diesel is still a dirty word, thanks to the Volkswagen emissions cheating scandal. GM hasn't been implicated in that, but it's put a fog over the fuel, which was riding high this time last year.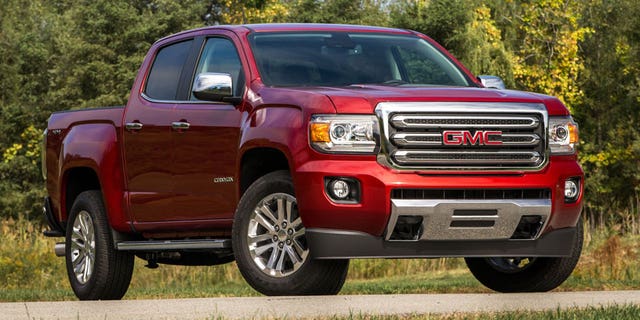 But in fact, as far as the EPA is concerned, the Canyon and Colorado are A-OK. The agency tweaked its testing after VW's issues came to light, making it more rigorous, and the Canyon and Colorado were the first vehicles to be certified under the new procedures. So breathe easy, compression ignition fans, this one's good to go.
Since the engine is really the only thing different about this Canyon, I won't be getting into the rest of it this time. Suffice it to say that it is excellent all around. It was one of FoxNews.com Auto's Favorite Five cars and trucks of 2015,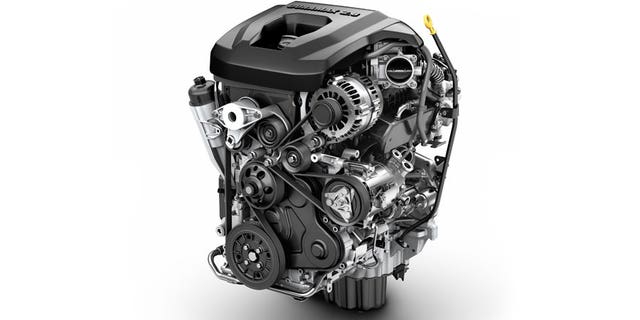 The turbocharged four-cylinder engine has been around the block, but is new to the United States. Its emissions are cleaned with a spritz of exhaust treatment fluid that needs to be filled up every 7,500 miles or so, just like every other diesel on sale these days. The 2.8-liter is rated at 181 hp and a V8-like 369 lb-ft of torque, which is 100 lb-ft more than the Canyon's 3.6-liter, gasoline-fed V6. This lifts the Canyon's already best-in-class tow rating from 7,000 to 7,700 lbs, but payload drops by 150 lbs to 1,420 lbs, in part due to the diesel powertrain's extra weight.
Light it up and the engine settles into a soft diesel clatter that's just loud enough to provide an unmistakable Keep on Truckin' soundtrack and get you thinking about upgrading the size of your ball cap and belt buckle. There's even an elevated idle setting to help heat things up on very cold days, just like the big rigs have.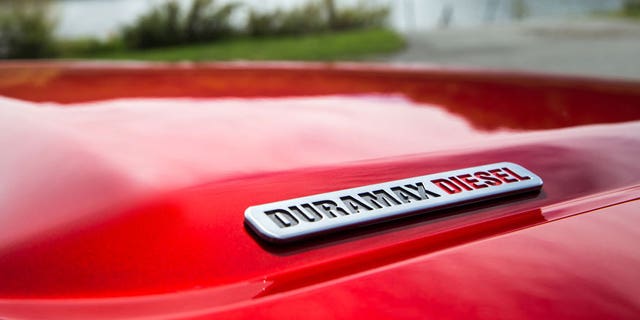 Hit the gas throttle accelerator and the motor pulls smoothly and as strongly as its specifications suggest. A six-speed automatic transmission is the only one available, but it has a thumb-activated manual shifter on the gear selector for extra control when you're heavy hauling.
I didn't get the opportunity to push its load limits, but I did take the little guy to some seriously steep hills, and it had no trouble scurrying up them. Ditto coming back down.
Like GM's heavy duty diesel pickups, the Canyon has an exhaust brake that uses the turbocharger to create backpressure to deliver an engine-braking effect. It's tied to a Tow/Haul mode that downshifts more aggressively when you tap the brake pedal and works with the cruise control to manage speeds better on downhill grades. It works very well and should be a boon if you often pull a trailer or have a full bed, which are the main reasons to choose this truck. For better or worse, it's not the same as a semi's "Jake" brake, so it operates without the rapid-fire racket one of those makes as it silently goes about saving your brake pads.
As far as saving fuel is concerned, two-wheel-drive Canyon diesels have an unbeatable EPA economy rating of 31 mpg highway, while four-wheel-drive models come in at 29 mpg. Of course, that's if you can trust the EPA. It turns out that I saw as high as 38 mpg over a 40-mile stretch in a 4x4, and was regularly getting 35 mpg as I fruitlessly searched for a convoy to join.
That's impressive, but don't expect to fill the bed up with stacks of cash. At today's fuel prices, the diesel is pretty much a wash at the pump compared to the V6, which gets as much as 26 mpg. And the premium for the engine is $3,730. Also, it's available for now only in higher-end trim level Canyons, and the cheapest one starts at $36,520. That puts you within spitting distance of a full-size Ram 1500 EcoDiesel, which is more potent and nearly as efficient.
But the Ram's been on sale for a couple of years now, so if you wanted one of them, you'd already be trying to stuff it into your garage. The Canyon should fit just fine, even if it doesn't sound like it will.
----------
2016 GMC Canyon Diesel 4WD Crew Cab Short Box
Base price: $40,435
As tested: $44,365
Type: 5-passenger, 4-door pickup
Engine: Turbocharged 2.8-liter 4-cylinder diesel
Power: 181 hp, 369 lb-ft torque
Transmission: 6-speed automatic
MPG: 20 city/29 hwy
Gary Gastelu is the FoxNews.com Automotive Editor. You can follow him on twitter @garygastelu