2015 Volkswagen e-Golf Test Drive
A Golf has never been this green.
The 2015 e-Golf is VW's first all-electric car for the United States, a battery-powered runabout designed to compete with zero-emissions compacts like the top-selling Nissan Leaf.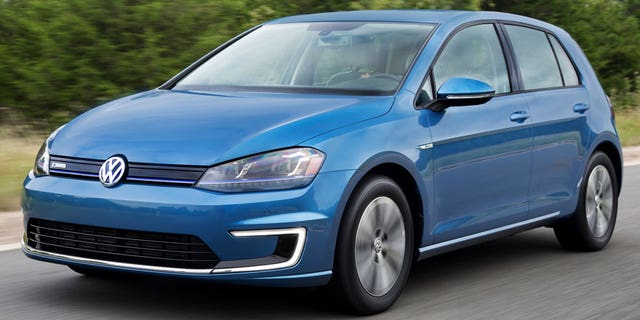 The four-door hatchback is built on the Golf's all-new modular platform, which was optimized in this case to accommodate an electric powertrain. Its 24.2 kilowatt-hour battery pack fits where the gas tank would normally go and doesn't encroach on passenger or cargo room, while a 115 hp electric motor is under the hood, where it drives the front wheels.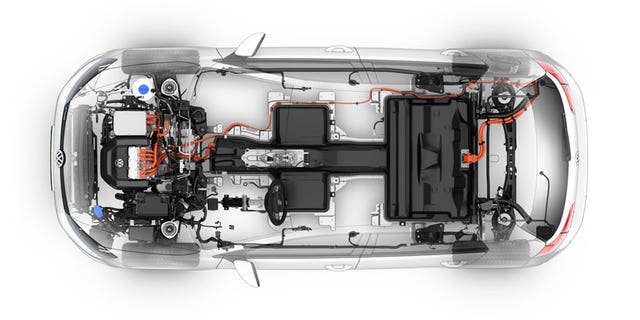 Visually, it's a low-key effort for an electric. Aside from the blue trim, LED headlights and aerodynamic wheels that give it away, it looks just like a regular Golf.
Just like pretty much every battery-powered car aside from the Tesla Model S, the e-Golf has a relatively short range of 83 miles per charge, and it takes about four hours to fill up when plugged into a 240-volt charger like the one you'd have installed at home. But it's also compatible with the growing network of public high-speed DC charging stations, where a 30-minute charge will get it to 80 percent full.
With a combined economy rating equivalent to 116 miles per gallon, it's one of the most efficient electrics available, and tops in the compact class. The EPA estimates it costs just 87 cents per 25 miles to operate.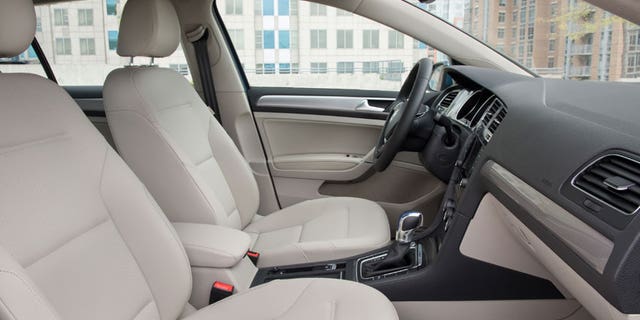 The first models hitting showrooms are all kitted out in a loaded SEL Premium trim level that has a sticker price of $36,265 before you deduct the $7,500 tax credit and any state incentives it qualifies for. A competitive top-of-the-line Leaf starts at $35,970.
The folks at VW said they didn't want to start selling an electric car until they could do it right, and a brief drive in the e-Golf reveals that they have done just that.
With 199 lb-ft of torque on tap, about the same as a turbocharged Golf, it gets up to speed easily, if not rocket quick, and the power delivery is smooth and natural. From the driver's seat there's barely any noise from the motor or anywhere. Not a squeak or rattle to be heard.
You can set it to deliver several levels of regenerative braking, which uses the motor to brake and capture some of that energy as electricity when you lift off the throttle. In the highest setting it slows it down so forcefully that the brake lights need to be activated.
Although it weighs a little over 300 pounds more than other Golfs, it doesn't feel heavy. The ride is very comfortable and compliant, and the handling is as sharp as you'd expect from a Golf. The interior is very nicely appointed, and the way they packaged the battery pack is really amazing. The cargo bay doesn't just have a low, flat load floor, but there's extra space under it.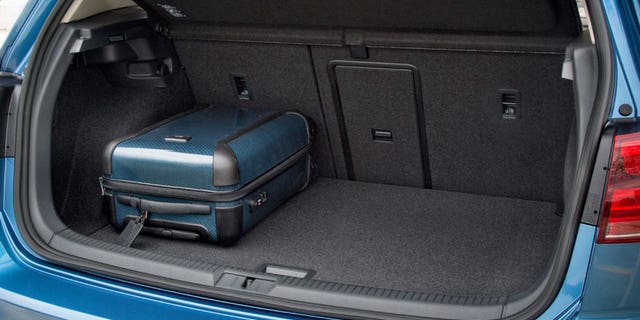 Overall, the e-Golf is one of the strongest efforts to date in the electric space, but you might not be seeing too many of them any time soon. For now, it's going to be on sale only in states that are on board with the California-led Multi-State Zero Emissions Action Plan: Connecticut, Maryland, Massachusetts, New York, Oregon, Rhode Island and Vermont. Live somewhere else and you'll have to burn a little gas to pick one up.
Compared to some of the other EV options available, it might be worth it.