2015 Ford Mustang power secrets revealed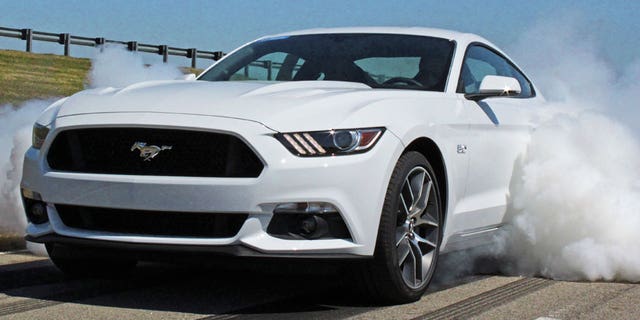 The 2015 Ford Mustang is still a couple of months away from showrooms, but Ford today answered the biggest question surrounding it: How much power does it have?
There are actually three answers, one for each engine.
The big dog 5.0-liter Coyote V8 in the Mustang GT is rated at 435 hp and 400 lb-ft of torque, up 15 hp and 10 lb-ft, while the base car's 3.7-liter V6 loses 5 hp, for a 300 hp/290 lb-ft rating.
But it's the 2.3-liter turbocharged four-cylinder, Mustang's first since 1986, that's been the most tantalizing, and it doesn't disappoint with 310 ponies and 320 lb-ft on tap.
Just as important to pony car fans, while there were rumors that the all-new Mustang was going to weigh hundreds of pounds more than the current car, the gains are much more modest across the board, ranging from 12-87 pounds, depending on the model.
All three motors can be ordered with either a six-speed manual, or six-speed automatic transmission, while turbo and V8 cars will be available with optional performance packages featuring suspension and brake upgrades.
No word yet on what day the Mustang deliveries are set to begin, but the order books are already open.