2015 Ford F-150 First Drive
NEWYou can now listen to Fox News articles!
Unless you've been living in an iron mine this year, you've heard by now that the 2015 Ford F-150 is the first full-size pickup to feature an all-aluminum body. After finally getting the chance to take one for a spin, I can tell you that it's probably the least interesting thing about the all-new truck.
Oh, it's important, the move from less expensive steel aimed at improving fuel economy and capability. And the multibillion-dollar effort that went into updating Ford's supply lines and infrastructure is mind-boggling in scale. But from behind the wheel, the F-150 is kind of just a pickup. A very good one.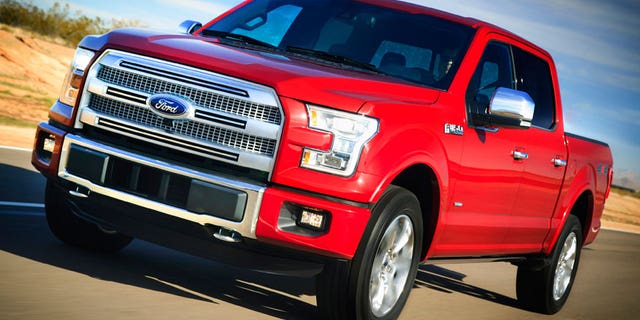 A glance at the fully re-engineered F-150 reveals nothing about the big switcheroo, which drops about 700 pounds from America's best-selling vehicle. Painted metal is painted metal, after all, but try to stick a magnet to it and you'll be bending over in short order to pick it up. It also sounds different if you tap on it. Think I'm hearing things? Go knock on the steel bed of your late model F-150 and then on the hood, which is already made out of good old atomic number 13.
Of course the frame is still steel — no one's crazy enough to change that just yet — but it's of the high-strength variety and stronger than ever. Thanks to the weight loss, its top tow rating is a best in class 12,200 pounds and its max payload a truly titanic 3,300 pounds, which is an easy 50 percent better than its closest competitor. Not bad for a "half-ton" truck.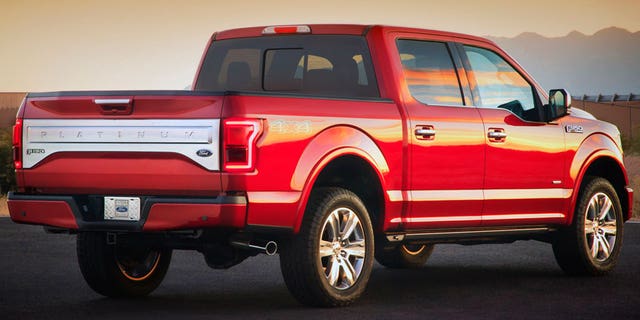 Ford says fuel efficiency increases by 5 to 20 percent, depending on configuration, but it hasn't put any MPG figures on it just yet. The EPA ratings will be revealed closer to when it goes on sale in a few weeks.
When it does, it will be available in five trim levels, from XL to Platinum, with four engine choices: a 3.5-liter V6 (282 hp, 253 lb-ft), 5.0-liter V8 (385 hp, 387 lb-ft), twin-turbocharged 3.5-liter V6 (365 hp, 420 lb-ft), and a small turbocharged 2.7-liter V6 (325 hp, 375 lb-ft). Base prices range from $26,615 to $52,155, and there are plenty of cab and bed sizes to mix and match.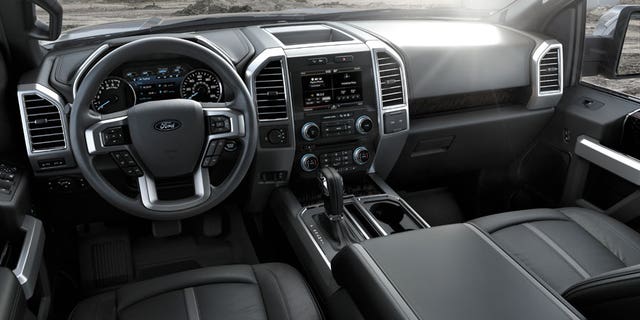 All of them feature a new design to help it make a grand entrance. It's a tough and techy look with beveled edges and semi-split headlights that are available in full LED. But the overall style is still says "Ford Truck." Inside, there are more of the same shapes and the highest grade materials yet used in an F-150, especially in the top-of-the-line Platinum that I got to spend the day with. It was, according to one friendly Manhattanite who approached it as I sat in traffic, a very "nice f--king truck." Not the typical reception a pickup gets in the Big Apple, but accurate.
I drove it away from the city on a long highway run, up a couple of mountains, down a gravel road or two and back. The big Crew Cab 4x4 was dressed to the nines in creamy black leather, loaded with options and powered by the 3.5-liter twin-turbo V6, which is likely to be a top choice among buyers. Unfortunately, it's too potent to really highlight the weight loss without a proper back-to-back comparison versus a similarly-outfitted steel body version — even in the old F-150, this motor could pull a small comet without breaking a sweat.
Nevertheless, there's no way I'd say it felt heavy, and the body panels were solid as a rock. I was hoping for more of a revelatory, next-gen experience, but there's absolutely nothing to tip you off that something strange is afoot. Perhaps that was intentional; Ford doesn't want to scare away any of its 700,000 or so loyal annual customers in the name of meeting upcoming EPA standards.
I didn't see any miracles per gallon on the multifunctional digital display in the center of the instrument cluster, but the returns were certainly no worse than the 2014 F-150's 17 mpg combined rating. The smaller turbo is likely to be the efficiency leader and a more compelling proposition in this reimagined hauler, so I look forward to the opportunity to trying one of those down the road.
My tester was very refined, with a quiet cabin and a good ride, if still not quite on par with the creamy Ram 1500, which is tops in this category. In particular, it was choppy enough over rough surfaces that I took note, but it was also a pre-production model, so I'll give it a "Grade Pending" score for now. However, the level of equipment and technology stuffed into it was beyond anything else out there today and needs no such excuses.
The F-150 isn't available just with a blind spot warning system; it also has a lane departure prevention system that autonomously steers between the lines. It's not aggressive enough to be a hands-off affair, but it keeps you honest if you're not paying full attention. (The massaging seats can be a distraction, you know. And, yes, you can get those, too.)
Need to pull into a parallel parking space? The bird's-eye-view camera system, similar to Nissan's and Land Rover's, should help. Or you can order up a self-parking system that just does it for you while you operate the gas and brakes.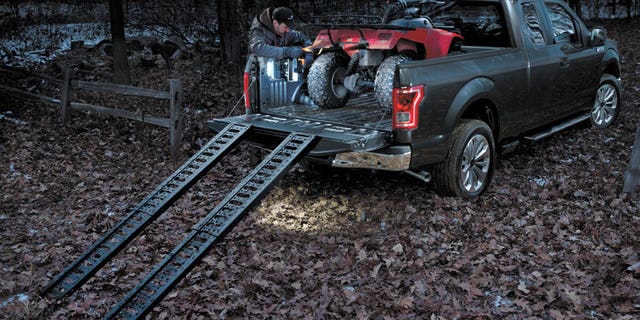 A two-row panoramic moonroof isn't exactly what you'd call high-tech, but it is a bright idea, as are the spotlights built into the side-view mirrors. Power retracting side steps, a remote opening tailgate and loading ramps that store inside the bed just make things too easy at the job site, or ATV track.
Unfortunately, the F-150 is saddled with the dated MyFord Touch infotainment system that may be the only Ford feature you've heard more about recently than the F-150's aluminum, and rarely for a good reason. At least here it comes with a lot of redundant, work glove-compatible knobs and buttons to help make up for its many shortcomings.
Generally speaking, the F-150 has few of those. As always, it's a top-notch effort and should please the faithful as they pull away from the showroom. How well that aluminum will hold up in the years that follow, and what it will cost to fix if it doesn't are the great unknowns.
To help answer the first, Ford secretly replaced the steel bodies of a couple of older F-150s with aluminum and handed them over to a mining company for two years. According to them, no one knew the difference, but Ford used the lessons learned from the experience to make further improvements anyway.
As for the cost to insure and repair, the underwriters are taking a wait-and-see approach until enough of the trucks get into accidents to build up some data, but Ford says the aluminum will be competitive with steel to fix. Since prices for replacement parts haven't made it into the company's catalog yet, I found another recent steel-to-aluminum swap in there to get an idea of what "competitive" might mean.
Ford oddly hasn't gone out of its way to tout it, but the all-new 2015 Mustang also adds some aluminum bodywork in the form of its front fenders, which list for $293.72 each. Last year's steel version goes for $205.37, or 30 percent less. But, hey, that's aluminum to apples.
Regardless, if you forget about what the F-150 is made from, you'll never know the difference. That is, until you have to tow something, or load up the bed or fill the tank. In which case, things might get interesting.