2015 Ford F-150 2.7L Test Drive
The new Ford F-150 is all about doing more with less.
By switching to an aluminum body for 2015, it lost a lot of weight – up to 700 pounds – which improved its fuel efficiency and cargo carrying capability. That would have been the case even if everything else stayed the same.
But it didn't.
Last year the F-150 was available with four engines: two six-cylinders and two eight-cylinders. The balance of power is now 3-1 in favor of the six packs. Not only did Ford discontinue its monster 6.2-liter V8, but it gave its spot on the team to the tiniest engine ever offered in an F-series. That's nearly seven decades worth of trucks.
But it's no peewee. The new 2.7L Ecoboost V6 has twin turbochargers and direct fuel injection, and it cranks out a very V8-like 325 hp and 375 lb-ft of torque. Those numbers trounce the base 3.5L naturally-aspirated V6, which is rated at 282 hp and 253 lb-ft, and the turbo costs a mere $795 more.
The 2.7L gets better fuel economy, too. Not a lot, just 1-2 mpg combined, depending on the truck it's in, but given the power advantage, that's not bad. I saw pretty much the same number that was on the window sticker of the 4x4 XLT SuperCab I tested it in: 20 mpg.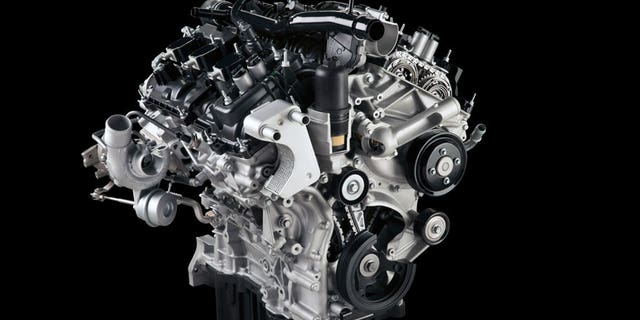 For added tech effect, it features a hybrid block design. A trim, compacted graphite iron section houses the pistons and main bearing caps, and it's supported by a bolt-on aluminum cradle. It's kind of the opposite of the truck itself, where the aluminum body rides on a steel frame.
You can get the 2.7L now in most F-150 configurations, save for the luxurious King Ranch and Platinum lines. Aside from a whiff of turbo lag when you slam on the accelerator – and then only if you're looking really hard for it – the little bugger could almost pass for a big, honking V8 (minus the honking part).
Typical for small, turbocharged engines, this one's could cruise through a library without raising any ire. There's no loin-stirring rumble or roar, so worksites may get much mellower if it catches on – and even more so when the trucks are standing still. The 2.7L is fitted with an idle-stop feature that shuts it off to save fuel when you come to a stop and starts it again when you lift your foot off the brake. You can disable it, but its default setting is on, so get used to it. It's the future.
The 2.7L's top payload rating is 2,250 pounds, which beats every other brand's half-ton pickups but comes up 1,050 pounds short of the 385 hp, 387 lb-ft 5.0L V8. The top-of-the-line, $1,200-$1,500 more expensive 3.5L turbocharged six can also carry more and out-tow it 12,200 pounds to 8,500 pounds, while delivering the same fuel efficiency as that base V6, in spite of its potent 365 hp, 420 lb-ft output.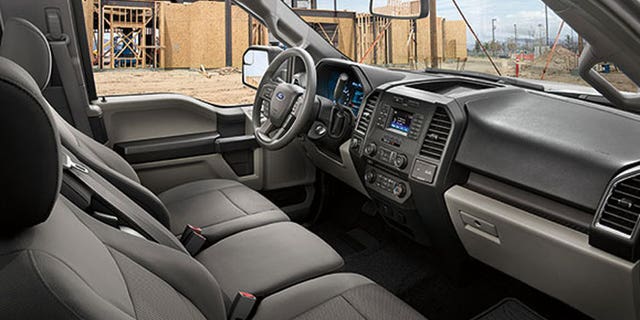 As for the rest of the truck, this was my first opportunity to try out a relatively basic midrange model after driving a pre-production Platinum before the new F-150 went on sale last year. Aside from the cloth upholstery and lack of leather trim on the dashboard, it was just as refined, with very little road and wind noise for a pickup, and it offered great visibility and an excellent ergonomic design throughout. My one quibble is the ride quality, which is generally fine but exhibits more of a shudder over small, high-frequency bumps and washboard surfaces than the other pickups I've driven lately. That Platinum did this, too.
As for which engine to go with – given its small price premium, the 2.7L seems worth the stretch over the base engine, especially if you're more of a long hauler than a heavy hauler, since it's good for 26 mpg on the highway in 2WD models. But don't count that V8 out yet.
Ford's been touting the fact that two-thirds of F-150s are sold with V6s these days, but what that really means is that the V8, which makes up 25 percent of the engines on offer, accounts for 33 percent of sales. Clearly, some people still think bigger is better.
But that doesn't mean it is.
----------
2015 Ford F-150 4X4 SuperCab XLT 2.7L
Base price: $39,385
As tested: $44,980
Type: 5-passenger, 2+2 door pickup
Engine: 2.7-liter turbocharged V6
Power: 325 hp, 375 lb-ft torque
Transmission: 6-speed automatic
MPG: 18 city, 23 hwy