2015 Ford Expedition and 2015 Lincoln Navigator Test Drive
The aluminum-bodied F-150 pickup may be Ford's biggest news for 2015, but there's another updated full-size truck in its showrooms.
It may not look like it — in fact, it doesn't — but the Expedition SUV has been given its first major makeover in eight years, along with its rich sibling, the Lincoln Navigator, with the changes mostly coming under the skin.
2015 Ford Expedition King Ranch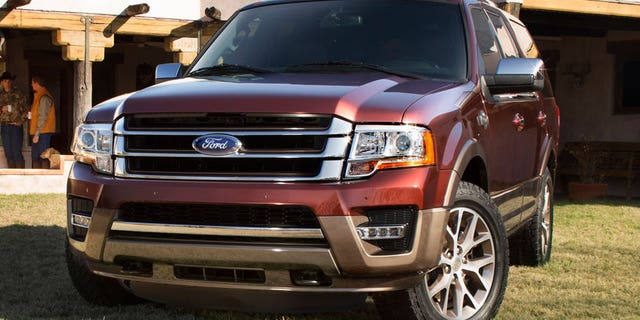 Unlike the F-150, aside from the aluminum hood and tailgate that it's had for years, the Expedition is still a steel-bodied truck. You'll have to wait a little longer before it trims down, if ever. At nearly three tons, a diet wouldn't hurt, but it does get the next best thing: more power.
For a starting price of $45,040, the Expedition now comes with Ford's much-ballyhooed 3.5-liter twin-turbocharged EcoBoost V6, which pumps out 365 hp and 420 lb-ft of torque. That's 55 more of each than the 5.4-liter Triton V8 it replaces. Fuel economy also improves by more than 10 percent across the lineup, with 2WD models rated at 22 mpg highway, up from 20 mpg.
It's also more potent than the Chevy Tahoe's V8 and gives the Expedition a best-in-class maximum tow rating of 9,200 pounds. Despite the impression that big SUVs are exclusively used as mall crawlers, many of them are actually purchased to pull things around in lieu of a pickup, so this is an important metric.
When unhitched, the Expedition moves like an old muscle car. The EcoBoost launches it with authority, and the big girl's ride and handling aren't all that trucky. The Expedition's ace in the hole is its independent rear suspension, which is delightfully plush and takes the edge off rough road surfaces, even if it can be a little bouncy. The 22-inch wheel option, which my tester didn't have, is paired with electronically controlled adaptive dampers that tidy things up (you'll find out how I know that in a bit).
For better or worse, the interior hasn't been updated much at all. It's still huge, with tons of passenger and cargo space, and the extended length Expedition EL adds more of the latter. You can make a couple of your 6-foot-tall friends sit in the third row and not violate the Geneva Conventions. Those big, out-of-fashion windows offer a fantastic view for everyone, while the hood steps down at the fenders and opens up the vista even more for the driver, making it easier to navigate around town than it's size would suggest. That's the good part.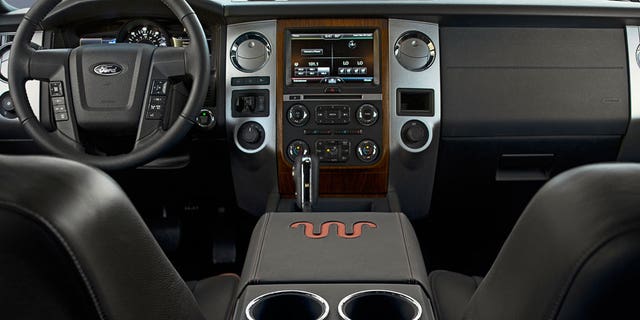 Unfortunately, the dashboard is still straight out of an old F-Series pickup, with lots of industrial strength plastics and a very dated look. But the leather-upholstered seating in the premium King Ranch 4x4 model I tested is Texas-classy for $61,785. The Expedition also has the dubious honor of being the last mainstream Ford to get the often-criticized MyFord Touch infotainment system, which starts getting phased out of its other products this year. It's not much better than the even older system that it replaces, but it does come with plenty of conventional knobs and buttons to supplement the touch screen interface.
In many objective ways, this is the best big SUV you can buy, but it really could've used a more extensive redesign, like the snazzy 2015 Tahoe got, to transmit that fact. Either that or you just have to take the darn thing for a test drive. If you have a family of eight and a Boston Whaler, I suggest that you do.
2015 Lincoln Navigator
Even if you don't buy a Navigator, if you're a jet-setter, there's a good chance you'll ride in one. Such is its reputation as an airport limo.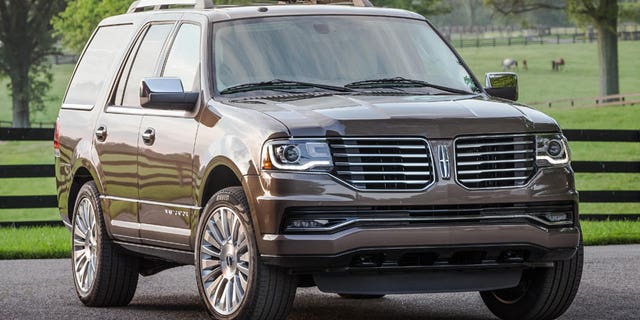 If not, you might actually notice it driving by. The Navigator was granted a more extensive exterior refresh than the Expedition, at least up front, and now features its own take on the Lincoln family's split-wing grille.
Aside from that, your $65,280 replaces the Expedition's Built Ford Tough dashboard with a dual-cowl, leather and soft-touch plastic-trimmed motif that really dresses up the place. A $7,800 option pack adds even nicer leather upholstery, Ziricote wood trim, 22-inch wheels and those self-adjusting dampers. They have three settings: comfort, normal and sport. The last one really battens down the luxury liner's ride without making things too stiff. It's too bad it's not standard, or available as a standalone option.
Yes, the Navigator is pretty much just an Expedition in a tuxedo (it's 4x4 system doesn't even have a low range,) but it cleans up real good. For $8,685 less than a Cadillac Escalade, it's also not a bad deal. Of course, technically, its real competition is the GMC Yukon Denali, which comes with plenty of luxury, a 420 hp, 460 lb-ft V8 and its own trick shocks for about the same price as a Navigator. But, hey, the neighbors don't need to know that, do they?