2015 Ducati Scrambler Test Ride
I'll admit it, I'm a fashion victim.
Actually, that makes me sound like a bad dresser. "Victim of fashion" may be a better way to put it.
I rode motorcycles a lot when I was younger. Mostly dirt bikes, but I hit the street now and then. Now, deep into my middle ages, and with a family and all that, two-wheeling hasn't been much of a part of my life. But then I saw the new Ducati Scrambler, and the siren song of its throwback style was too hard to resist.
I'm not the only one that had that reaction.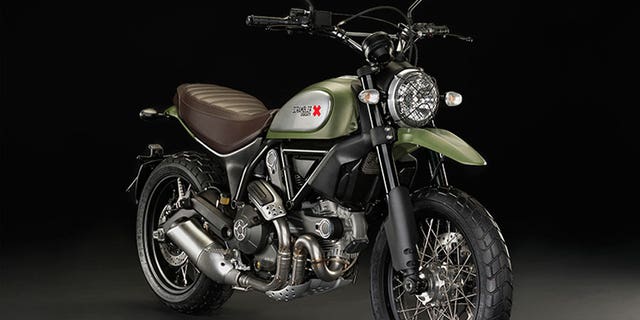 Ever since Ducati unveiled this glorious tribute to the 1960s and 1970s, it's been the "it" bike. Thoroughly modern, but dressed in vintage clothes, the Scrambler was instantly Ducati's best-seller when it went on sale a few months ago, attracting a wide range of customers, from seasoned riders to those all-important hipsters. Undeniably cool, it's been featured on websites and in publications that haven't used the word "motorcycle" in so long that their spell-checkers had to look it up.
So, joining the fray, I took a refresher safety course, bought some new riding gear, and headed over to the Ducati dealer in Manhattan's appropriately chic SoHo neighborhood to pick one up. There, among visually aggressive bikes with scary names like Monster and Diavel, the Scrambler stood out like a happy pound puppy just begging for me to take it home.
It's a friendly, accommodating motorcycle with a low seat, high and wide handlebars, and not much else to get in the way of the fun. Look closely, though, and you'll find that it's as high-tech as anything else in the showroom. It has a fuel-injected 803cc twin, adjustable single-shock rear suspension with a boomerang-shaped swingarm, LED lighting, digital instruments and even a USB charging port under the saddle.
Scrambler isn't just a model name, it's also a type of motorcycle. Originally referring to a street bike converted for off-road use. This one doesn't go quite that far, but with dual-sport tires and a tad more suspension travel than a typical road racer, the spirit lives on.
Four versions are available starting at $8,495. They're all mechanically the same, just with different details. Mine was the $9,995 Urban Enduro, which gets a high front mud guard, skid plate, headlight grille, fork protectors and a matte green paint job that make it look like an escapee from the local army motor pool.
Start it up, and the engine's 75 horses settle into a quiet, not at all obnoxious rumble that won't upset the townsfolk. With plenty of torque -- 50 lb-ft -- you can just ease out the clutch while idling and be on your way.
Tipping the scales at around 400 pounds, it isn't the lightest bike on the block, but the weight is mostly down low, and the Scrambler is so stable that it feels like it could practically stand up by itself. It's easy to maneuver at low speeds, and plows through potholes like an SUV. Hubcaps, too. I didn't even know they still existed until one bounced in front of me while I was cruising along at 55 mph. With no time to swerve, I drove straight over it and the bike didn't skip a beat. My heart, on the other hand…
As accessible as it is, however, the Scrambler is a potent machine that deserves respect and a steady right hand. You barely need to twist the throttle to spring forward, even in sixth gear. That goes for the fingers and toes, too. The standard anti-lock brakes will stop it on a dime, even if that dime is on freshly-cut grass.
That's probably about as far into the wilderness as you'll want to go. The ride is too stiff for anything much rougher than a field or gravel trail, at least for very long, but you can hop and slide it around some while you're there. On pavement, its three-and-a-half-gallon tank should be good for around 125 miles between fill-ups.
And fill it you will. The Scrambler's sweet spot is a 40 mph curvy road, which, believe me, you will never want to end. Lean as far, or as little as you like into each bend. It's just as groovy either way.
That said, the Scrambler is ultimately just a motorcycle, and if it had the same generic bodywork as the rest of them, I'm sure I wouldn't have gone out of my way to try it. That's exactly why it doesn't, and the plan worked.
I know I got duped, but I'm glad that I did.
----------
2015 Ducati Scrambler
Base price: $8,495
Engine: 803cc L-twin
Power: 75 hp/50 lb-ft torque
Transmission: 6-speed manual