2015 Dodge Challenger SRT Hellcat Test Drive
This is just getting ridiculous.
Ridiculously awesome, that is.
The muscle car wars have a new heavyweight champion, the Dodge Challenger Hellcat.
The burly cruiser has been redesigned for 2015, and to celebrate, they stuffed the top-of-the-line model with 6.2-liters worth of supercharged V8 that pumps out an absurd 707 hp and is named for a WWII fighter plane. Deservedly so.
Never before has an American production car harnessed so many horses, and the only others in the world that do cost about five times the Challenger's $60,990 price. That's a big $15,000 jump from the next most powerful Challenger, the no-slouch 485 hp SRT 392, and indicative of just how special the Hellcat engine is.
Essentially an all-new motor, it has a 2.4-liter supercharger, two cooling systems, two air cooling systems and two air intakes -- including one hidden in the middle of the inside left headlight -- that can gulp up to 30,000 liters of air each minute.
Now, plenty of race and tuning shops will tell you 707 hp is no big deal, they've been doing that and more for years. The difference is that the Hellcat is backed by a five-year, 100,000-mile powertrain warranty, just like your Grand Caravan.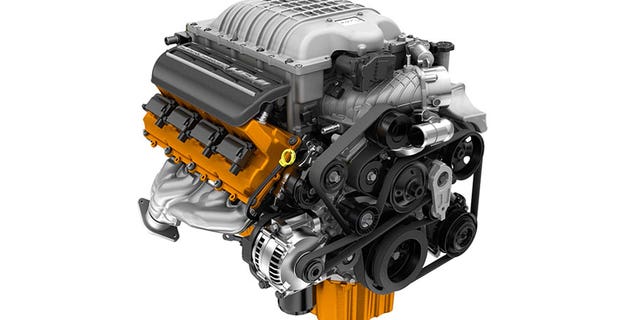 It's a great-looking engine, too, with an iron block and valve covers painted HEMI orange just like in the old days, and that huge supercharger sitting on top of it like a Weber grill. The hood has three shapely openings: a scoop to bring in a cool breeze and two extractors to purge heat and lower the air pressure under it to improve aerodynamic downforce. A NASCAR-grade chin splitter and trunk-mounted spoiler help manage the winds, as well.
The Challenger is anything but subtle, even the rental car-spec V6 model, but these tweaks plus a set of black 20-inch wheels take it to the next level. In the couple of days that I had the car, I didn't park it once without returning to find someone waiting to chat. And when I stopped by Raceway Park in New Jersey, it couldn't have gotten more attention if Chris Christie had been behind the wheel, taking Eli Manning and Bruce Springsteen for a spin.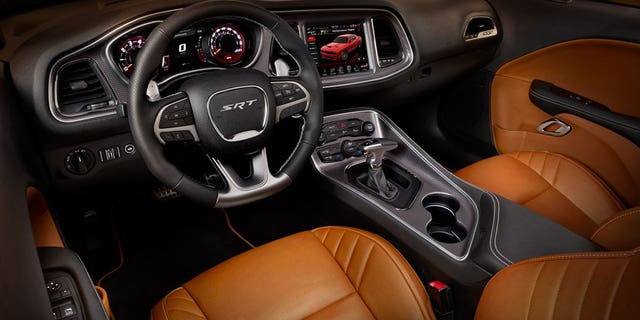 Inside, the coupe gets a much needed update, with a curvy and chrome-trimmed dash, retro-inspired gauges, turned-aluminum inserts and Chrysler's latest UConnect infotainment system, which is one of the best in the business.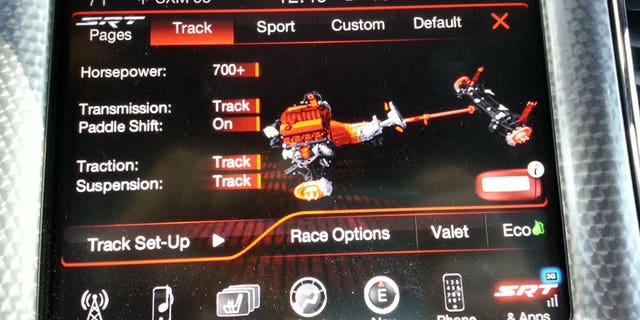 Version Hellcat.2 (I made that up) has a couple of screens specific to the car, including one that lets you adjust the steering, transmission, adaptive suspension and even the engine output to your liking. On days that you're not feeling frisky, you can turn the motor down to a more pedestrian 500 hp, or use a code to lock it in Valet Mode, which cuts the power even further, forces second gear starts and keeps all the safety systems on full. It's the automotive equivalent of a chastity belt.
There's even an icon for Eco Mode. Stop laughing, press it, try not to look to hard at the gas pedal and the Hellcat can squeeze out 22 mpg on the highway, thanks largely to its beefed-up eight-speed automatic transmission. The six-speed manual is good for 21 mpg. Neither is high enough to duck a $1,700 gas-guzzler tax, but if there ever was a car designed to consume petroleum products, this is it.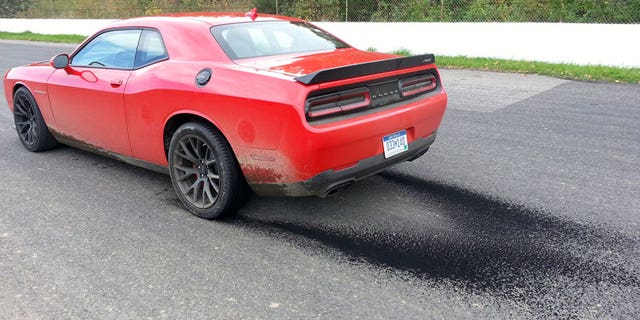 Keep your foot to the floor and the Hellcat will empty its 18.5-gallon gas tank in just over 12 minutes and melt the rubber off of its supercar-grade Pirelli P Zero tires ($1,988 per set at Tire Rack) even quicker than that. Ease up, let them get some grip, and it takes off quicker than a scalded rhinoceros. Dodge says it'll do the quarter mile in 11.2 seconds and hit a top speed of 199 mph. Considering that it weighs just a smidge less than 4,500 pounds, that's one speedy ungulate.
A set of the largest brakes ever used by Dodge does a heroic job of slowing things down, while an epic stability control program delivers quick turn in and gets it through the curves better than expected. That is if you leave that gas pedal alone. Press it too hard, and by that I mean "at all," and it will kick the tail out, especially if it shifts in the middle of the turn. This can happen when you're going straight, as well. It may be the only car I've ever driven with rear-wheel torque steer.
The tires are 9.5-inches wide and they still don't have a chance. Dodge decided not to flare the fenders to accommodate more. One of those tuning shops certainly will. Along with plenty of standing burnouts, I did one while cruising along at 30 mph. No clutch drop, because I had the automatic. Just floored it and turned the tires into fog. That's the kind of power on tap. Later in the day it rained and, let's just say, things got really interesting.
Anyone who got upset when the Dodge SRT Viper was recently "civilized" should give one of these a shot. Turn off all of those driver aids and it's a handful of understeer, oversteer and inertia, even in the dry. A challenge, for sure. It's no sports car, it's a muscle car to the nth power. On a twisty track it'd be the Death Star battling X-Wings, but give it a clean shot and you'll suffer the same fate as Alderaan.
It's tempting to think this is the epitome of American power, except that I'm sure it isn't. The Challenger SRT Hellcat was the answer to the 662 hp Ford Mustang Shelby GT500, which was the answer to the 580 hp Chevrolet Camaro ZL1. With gas prices what they are today, there's no reason that trend line won't continue.
It's ridiculous, and I'm loving it.
----------
2015 Dodge Challenger SRT Hellcat
Base price: $60,990
As tested: $64,075
Type: 5-passenger, 2-door coupe
Engine: 6.2L supercharged V8
Power: 707 hp, 650 lb-ft torque
Transmission: 8-speed automatic
MPG: 13 city/22 hwy