2015 Alfa Romeo 4C Spider Test Drive
Rich people. Sometimes, I just don't get them.
They're happy to spend literally millions of dollars on an exotic hypercar or classic car that they'll never take on the road, but even though they can pick up a brand new, head-turning Italian that's one of the most exhilarating driving machines you can buy today for the kind of chump change they spend on a watch, not too many of them appear to be doing that.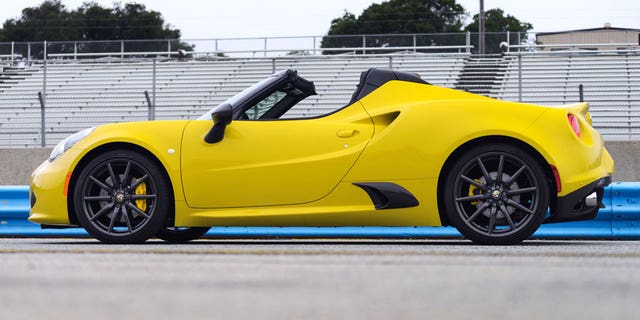 The Alfa Romeo 4C is that car. It's a lightweight two-seater that's so focused on delivering absolute, old-fashioned, sports car thrills that it doesn't even have power steering or a muffler. Its brakes are barely boosted, too. You can do that when your car is built around a carbon fiber tub and weighs under 2,500 pounds with a full tank of gas.
That sort of svelteness also means that a 237 hp turbocharged four-cylinder engine is more than enough to let it outrun some Ferraris from the 1980s or 1990s, with a sprint to 60 mph in the four-second range. Its mid-engine layout and launch control-equipped dual-clutch automatic transmission help deliver the goods here.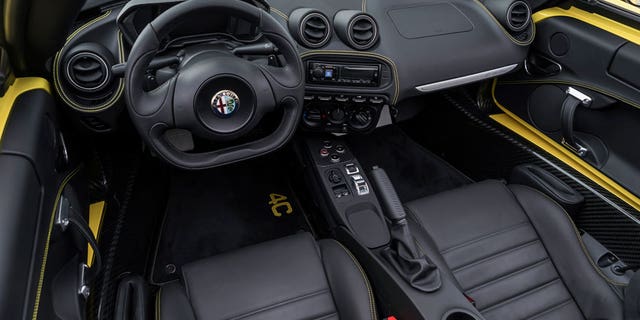 The Alfa is a raw road weapon from a less civilized age that's packed with as much passione as they could fit in its tight confines. It's the answer to the dreams of those who like to say that "they don't make them like they used to," and it starts at just $55,000. Yet despite Alfa's modest U.S. sales goal of about 1,000 cars per year, they're not exactly flying off lots.
Unlike the similarly volume-restricted Dodge Challenger SRT Hellcat and ultramodern BMW i8 plug-in hybrid supercar, you'll find no five-figure markups on the 4C, yet less than 500 had found American homes through September. It's a tragedy that exemplifies why we can't have nice things.
Sure, you can pick up a much more sophisticated Porsche Cayman for similar money – and from the looks of it, about five times as many people have – but few people will give it a second look, ask to sit in it, or whip out their iPhone for a selfie. It's a special car, but not in that way.
The 4C inspires all of those things, and more. It's a conversation piece embraced by everyone I encountered in it – unlike that obnoxious Patek Philippe you're wearing, Richie Rachel – and the perfect shuttle for visiting the air conditioned garages you keep your vintage rides in. So what's the problem?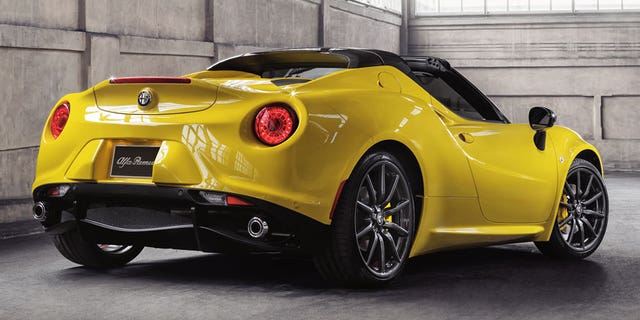 The only things I can think of are that it is difficult to get in and out of, and with its tiny windows not exactly the Popemobile when it comes to strutting your stuff among the masses. Well, those problems have been solved.
On sale now is the 4C Spider. It's not a convertible, but a Magnum P.I. Ferrari-style Targa with a removable roof. The top is fabric, easy to remove, roll up, and pop in the trunk … which it mostly fills up, so pack lightly.
Incredibly, the 4C gains just 22 pounds in the transformation, and its platform remains as rigid as before. So, yes, you can have your cake and eat it, along with the occasional bug. You'll pay $65,495 for the privilege, but that's still less than a Porsche Boxster with similar performance, and the premium is worth it.
With the top off, the 4C Spider is even more visceral than the coupe. It sounds fantastic, and while there is a fair amount of unruly wind buffeting above 60 mph, combined with all the other feedback the car provides, you'll think you're going that fast when you're doing only 30 mph. So your driver's license is possibly, and ironically, safer than ever.
On rough roads, that's even more true, but the ride isn't so bad that you'll avoid them, or long stints behind the wheel. Quite the opposite. The 4C Spider is the kind of car you look for excuses to take for a spin, and its 34 mpg highway rating is further incentive to do that often.
The one feature missing that would knock it out of the park is a manual transmission option. If you ask the folks at Alfa Romeo, they'll tell you that customers don't want enough of them to justify the effort, and I suspect it was a lot easier to engineer that carbon fiber chassis without a transmission tunnel. But to look at current demand, you've got to wonder if they really know what people want.
Then again, maybe they do. I realize that the reason so much is spent on those untouchable cars is that they're rare birds that appreciate in value every day. Twenty years from now, the 4C, especially the Spider, will likely be in the same boat, even if Alfa eventually sells every one of the paltry number it plans to make. It should.
And more.
----------
2015 Alfa Romeo 4C Spider
Base price: $65,495
As tested: $76,495
Type: 2-door, 2-passenger roadster
Engine: 1.725-liter turbocharged 4-cylinder
Power: 237 hp, 258 lb-ft torque
Transmission: 6-speed automatic
MPG: 24 city/34 hwy